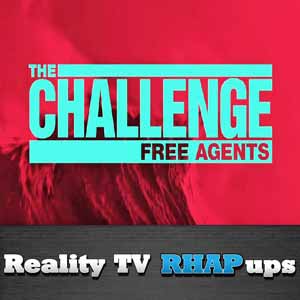 Click to Subscribe to the Challenge RHAP-up Podcast[/caption]
Rob Cesternino welcomes the hosts of the "Challenge RHAP-up" podcast, Brian Cohen ( @BusDriversRoute) and Ali Lasher ( @Lashtweets ) to discuss the season premiere of The Challenge: Battle of the Exes II on MTV.
This season features two contestants that have passed away since the filming of the show back in the summer of 2014. Most notably, Diem Brown, who had battled cancer for several years prior to appearing on Battle of the Exes II returned to the show. Tragically, she discovered that cancer had returned later in 2014 and passed away in November. In addition, Ryan Knight passed away from a potential drug overdose less than two weeks after Diem Brown's death.
Overall, Rob really liked the season premiere.  The season paired up one man and one woman whom each had a romantic fling or more with one another.  This season also marks the first time that participants from MTV's "Are You the One?" were included on the show.
The first competition involved teams having to walk a tightrope across two buildings high above Panama City.  Wes and Theresa would win the first competition to become the first "power couple" of the season.  Rob talks with Brian and Ali about the wisdom of Wes' strategy to target some of his fellow returning players instead of targeting the rookies which is typically done on The Challenge.  Most notably, Rob wonders if it was a mistake for Wes to threaten Challenge legend, Johnny Bananas.  As a potential rival, Rob thinks it wasn't wise to tip Bananas off and not go through with the threat but both Brian and Ali felt like it was a sound strategic decision for the challenge.
Ultimately, Dustin and Jessica were sent in to the challenge to compete with Adam Brittany.  Surprisingly, the veterans, Dustin and Jessica, were the first team to lose in the Challenge Dome.  In another twist at the end of the episode, it was revealed that Dustin and Jessica are not totally eliminated but actually in "Exile" which appears to be a Redemption Island-esqe twist for the season.
Subscribe to Reality TV RHAP ups
Follow Battle of the Exes II all season long by subscribing to Reality TV RHAP-ups:   iTunes Link   |   RSS FEED