Amy and Haley recap The Bachelorette Season 12 Episode 5, as JoJo Fletcher takes the guys to Uruguay and has dates with Jordan and Robby.
In this podcast, they talk about:
Chad returning to the house to talk to the guys
Evan still whining about his shirt
Alex celebrated as the "Dragonslayer"
The elimination of James F. and Daniel
The guys traveling to Uruguay
JoJo's one on one date with Jordan on a yacht with seals
The tabloid magazine "scandal" story from JoJo's ex-boyrfriend Chad
Vinny's barbershop at the hotel
The group date where the guys went sand-surfing
The ruckus caused by Derek getting the group date rose
Alex being a hypocrite
Robby's one on one date exploring the town and cliff-diving
Robby saying "I love you"
Derek confronting the "mean girls"
Alex and Chad's two-on-one date in the woods
The men who didn't get a date this week: Brandon, Chase, and James S. the superfan
The non-suprise eliminations of Evan, Grant, and Vinny
News stories: Marcus and Lacy break-up, Bachelor in Paradise Cast reveals (Chad, Nick V, Evan and Vinny will be in Paradise)
listener questions and more!
Amy and Haley provide updates on the draft, with Jordan in the lead, followed closely by Amy, with Haley trailing at 66 points. Follow Scorekeeper George on Twitter (@GeorgeCTV) for full draft point results this week.
Follow Amy (@RHAPrecapper) and Haley (@hstrong_) on Twitter and share your thoughts in the comments!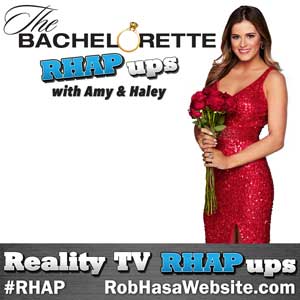 Subscribe to our iTunes Feed![/caption]
 How to Help Support RHAP
Become a Patron of Rob Has a Podcast | RobHasAwebsite.com/Patron