Amy and Haley recap The Bachelorette Season 12 Episode 2, as JoJo Fletcher goes on two group dates and her first one on one date with Derek.
In this podcast, they talk about:
The firefighter school group date with Wells, Evan, Robby, Luke, James F., Daniel, Grant, Ali, Will and Vinny
The limo on fire scene to start the group date
Wells getting the group date rose after his struggles with the challenge
Luke whining about losing to firefighter Grant in the rescue challenge
Chad doing pull-ups with his suitcase on his weight belt
Chad and Daniel's friendship
The drama caused by Chad throughout the episode
Derek's one-on-one date with JoJo where they made a series of choices, ending up at the Golden Gate Bridge in San Francisco
Derek's awkward reveal that he was cheated on
The ESPN "Sports Nation" group date with Jordan, Christian, Nick, James T., Alex and Chad
Marcellus Wiley and Max Kellerman's power ranking of the guys: James T in 1st, Chad in 2nd, and Alex in 3rd
James Taylor winning the group date rose
Chad rubbing the other men the wrong way
Alex and the other guys confronting Chad
Chad's one-on-one time with JoJo and revealing that his mom died
Chase's cocktail party date with snow and mittens
Christian's awkward striptease and spa date at the rose ceremony
The men who didn't get a date this week: Brandon, Chase, and James S. the superfan
Brandon, James S. and Will getting eliminated at the rose ceremony
The guys' boy band song for JoJo
Meat trays
and more!
Amy and Haley recorded right after the east coast airing tonight, so did not have updated draft results at the ready. Follow Scorekeeper George on Twitter (@GeorgeCTV) for full draft point results this week.
Follow Amy (@RHAPrecapper) and Haley (@hstrong_) on Twitter and share your thoughts in the comments, and send along any additional questions if you didn't have time to get one in!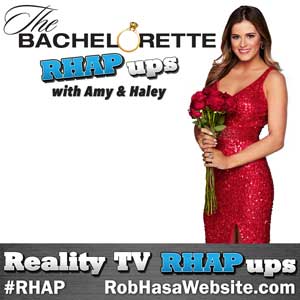 Subscribe to our iTunes Feed![/caption]
 How to Help Support RHAP
Become a Patron of Rob Has a Podcast | RobHasAwebsite.com/Patron