Amy and Haley recap The Bachelorette Season 12 Episodes 3 and 4, as JoJo Fletcher goes on one on one dates with Chase, James T, and Luke, as well as a two-on-one date with Alex versus the villain of the house, Chad.
In this podcast, they talk about:
The awkward yoga date with Chase, including private concert
The sex stories theatre group date with Jordan, Grant, Wells, James F., Christian, Ali, Daniel, Vinny, Nick, Evan, Alex and Chad
Evan getting the group date rose after giving JoJo an ultimatum about Chad
Chad refusing to tell a personal sex story on the date and getting turned down for a kiss from JoJo
Wells' threesome story
Chad tearing Evan's shirt and threating Jordan
James T.'s one-on-one date with JoJo where they learned to swing dance
James T.'s song for JoJo
The pool party rather than the cocktail party
The rose ceremony which eliminated: Nick, Christian and Ali
The group of guys traveling to Pittsburgh, Pennsylvania and the Nemacolin resort
The hot tub and sled dog one-on-one date with Luke
The football group date with Ben Roethlisberger in which two teams competed for time with JoJo
Jordan winning the group date rose after telling JoJo he's falling for her
Robby mounting JoJo on a pool table
Alex and Chad's two-on-one date in the woods
The cliffhanger ending with Chad approaching the mansion after being eliminated
listener questions and more!
Amy and Haley recorded right after the east coast airing Tuesday, so did not have updated draft results at the ready. Follow Scorekeeper George on Twitter (@GeorgeCTV) for full draft point results this week.
Follow Amy (@RHAPrecapper) and Haley (@hstrong_) on Twitter and share your thoughts in the comments, and send along any additional questions if you didn't have time to get one in!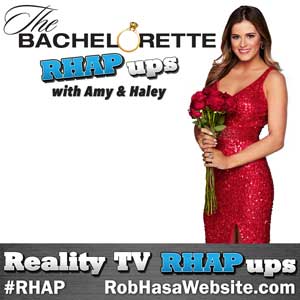 Subscribe to our iTunes Feed![/caption]
 How to Help Support RHAP
Become a Patron of Rob Has a Podcast | RobHasAwebsite.com/Patron