Amy and Haley chat about The Bachelorette Season 12 Episode8, as JoJo Fletcher goes on four hometown dates with Chase McNary, Jordan Rodgers, Robby Hayes, and Luke Pell.
In this podcast, they talk about:
JoJo's date in Colorado with Chase, including his talk with his father about his parents' divorce
Jordan's hometown date in Chico, California, visiting his high school and discussing Aaron Rodgers not being involved with the family
Robby's hometown date in St Augustine, Florida, as his mom reveals there are tabloid stories that he broke up with his ex Hope to go on the show
Luke's hometown BBQ date in Texas, including his special surprise for JoJo
JoJo saying she wants to eliminate Luke in confessional
Luke pulling JoJo aside to say "I love you," right before the rose ceremony
listener questions, emails and more!
Amy and Haley provide updates on the draft. Jordan remains in the lead but Haley has gained some ground. Follow Scorekeeper George on Twitter (@GeorgeCTV) for full draft point results for the week.
Follow Amy (@RHAPrecapper) and Haley (@hstrong_) on Twitter and share your thoughts in the comments!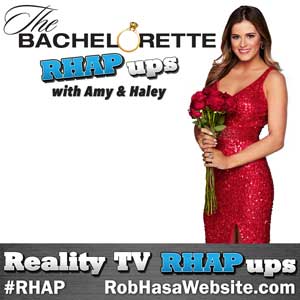 Subscribe to our iTunes Feed![/caption]
 How to Help Support RHAP
Become a Patron of Rob Has a Podcast | RobHasAwebsite.com/Patron