Amy and Haley are reunited this week to discuss The Bachelorette Season 12 Episode 7, as JoJo Fletcher goes on three one-on-one dates, with Alex, Jordan and Luke, as well as one three-on-one date with Robby, Chase, and James Taylor.
In this podcast, they talk about:
JoJo's gaucho date with Alex at an estancia in Argentina
The "horse whisperer" gaucho and JoJo and Alex spooning the horse
JoJo eliminating Alex on the date even though no rose was on the line
Jordan's private jet date in a Mendoza vineyard, drinking and stomping wine
Jordan discussing the rift between him and his brother, pro football star, Aaron Rodgers
The 3-on-1 date with Chase, Robby, and James
Robby saying he is the frontrunner
Robby talking about his 4-year relationship with his ex that ended in December prior to filming
Robby getting group date rose
Luke's skeet-shooting and horse-riding date
Amy and Haley coming around in their feelings about Luke
JoJo eliminating James T
Potential options for The Bachelor
Overall feelings about the remaining group of guys
Baby news for Sean and Catherine Lowe, and Ali Fedotowsky and fiancé Kevin
listener questions and more!
Amy and Haley provide updates on the draft. Amy and Haley are closing in on Jordan's lead, and Haley is the only one with 2 players remaining. Follow Scorekeeper George on Twitter (@GeorgeCTV) for full draft point results this week.
Follow Amy (@RHAPrecapper) and Haley (@hstrong_) on Twitter and share your thoughts in the comments!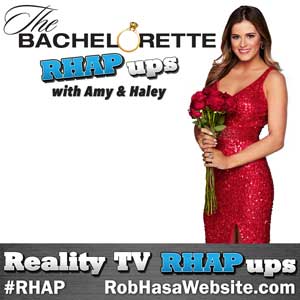 Subscribe to our iTunes Feed![/caption]
 How to Help Support RHAP
Become a Patron of Rob Has a Podcast | RobHasAwebsite.com/Patron