Amy and Haley are excited to talk about the Bachelorette Season 12 Premiere and their first impressions of the 26 men competing to win the heart of JoJo Fletcher.
In this podcast, they talk about:
their overall thoughts of the premiere
JoJo's advice team of Desiree Hartsock, Kaitlyn Bristowe, and Ali Fedotowsky
the video packages shown of Grant, Jordan Rodgers, Alex, James S., Evan, Ali, Christian, and Luke
Jake Pavelka, former Bachelor, and his surprise visit to the mansion
the good and the bad of the entrances, including Luke's unicorn, Nick B.'s santa suit, Jonathan's kilt, Robby's bottle of wine, Nick S.'s splits and Peter's giant heart
Christian's sad story about not being accepted by his father's side of the family
Will's cootie-catcher fortune teller gag earning him a pity kiss
Jordan's first impression rose
and more!
They also announce the winner of the Bachelor prize pack and share a new review. As always they provide an update of Draft Scores and answer listener questions. Jordan Parhar kicks off the season in the lead with 18, not losing any of his picks, followed by Haley with 15 points, and Amy trailing with 13. Follow Scorekeeper George on Twitter (@GeorgeCTV) for full draft point details.
Follow Amy (@RHAPrecapper) and Haley (@hstrong_) on Twitter and share your thoughts in the comments!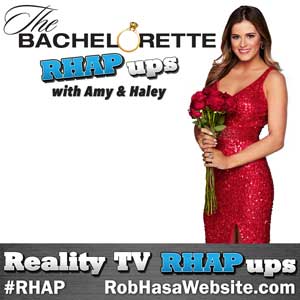 Subscribe to our iTunes Feed![/caption]
 How to Help Support RHAP
Become a Patron of Rob Has a Podcast | RobHasAwebsite.com/Patron