Amy and Haley react to learning how the show structure is switching up for fantasy suites and hometown dates as Kaitlyn Bristowe narrows the field of 9 remaining men in Ireland.
In this podcast they discuss:
JJ and Joe's 2 on 1 date, and Joe receiving the rose

Shawn B's jealousy and Kaitlyn telling him they needed to slow down and take a step back

Kaitlyn's awkward chat with Ben H about what happened while he was in the shower

Nick and Shawn both being nervous since Kaitlyn said at the cocktail party she had a rough week

the reveal that Kaitlyn had visited Shawn and Ben H and told Shawn he was "the one"

the surprising elimination of Ben Z (and not so surprising elimination of Tanner)

Kaitlyn's road trip with Jared, which included selfies and a trip to the Blarney stone, while the other guys traveled in a bus

Nick and Tanner's bromance

Chris Harrison telling Kaitlyn that she had to cut 6 men down to three, and that there would be no hometown dates until the final two

The structure of the show changing for "fairness" to allow all men to have equal "alone time" before hometowns

Predictions for final 3

Kaitlyn's 1 on 1 date with Chris "Cupcake," dumping him near the edge of a cliff

Chris's reaction to Kaitlyn not giving him a rose, including asking her why, saying she's just scared, and crying into his scarf 

Chris describing Killarney, Ireland as "this is what my soul looks like"

News about Bachelor in Paradise: Marcus and Lacey getting married on the premiere, Tanner and JJ revealed as new contestants

Amy Schumer's demands to be the next Bachelorette

Their excitement about Bachelor in Paradise

Their disappointment in the lack of action this episode, and too much focus just on Shawn
They also share tweets and answer listener questions. Draft results will be revealed on the next podcast, but Haley's contestants have been eliminated, Amy is down to just Shawn, and Kelley has the remaining contestants (Joe, Ben H, Jared), while Nick is off earning points on his own.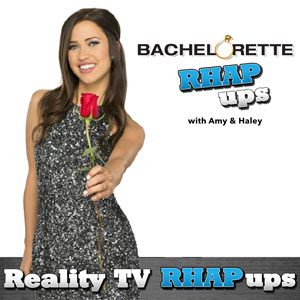 Subscribe to the Bachelor RHAP-up Podcast in iTunes[/caption]