Amy and Haley react to learning which guy gets pre-fantasy suite action, Ian's exit, and more as Kaitlyn Bristowe takes the remaining men to Dublin, Ireland.
In this podcast they discuss:
the follow-up from last week's cliffhanger: Ian leaves after confronting Kaitlyn, calling her "too shallow" and "surface level"

the rose ceremony at The Alamo in San Antonio, Texas

the elimination of Joshua and Justin (in addition to Ian at the cocktail party)

the group traveling to Dublin, Ireland as their next location

Kaitlyn's 1-on-1 date with Nick Viall exploring the city of Dublin

Kaitlyn inviting Nick back to her hotel for some "behind closed doors" action

Kaitlyn's and Nick's reactions the morning after their date

Kaitlyn's "Irish wake" group date with: Ben H, Ben Z, Shawn, Jared, Chris, and Tanner

Kaitlyn appearing in a coffin for the date

Jared receiving the group date rose including a private concert with Ireland's own, The Cranberries

Shawn's jealous reaction and threats to leave the show

the fact that there will be a 2-on-1 with JJ and Joe (that hasn't been shown yet due to cliffhangers)

the uneventful Britt and Brady update

the news that Chris Soules will be appearing on "Worst Cooks in America: Celebrity edition"

tweets and questions from #BachelorNation and RHAP-up listeners

update on the draft between Amy, Haley and Kelley Wentworth (currently competing on Survivor Second Chance)
Kelley has taken the lead. She lost Joshua, but she still has 4 men left, who gave her 9 points in week 6, bringing her total to 78.
Amy lost Justin, leaving Shawn B and Ben Z, who gave her 4 points in week 6, so she is up to 63 points.
Haley lost Ian this week, leaving only JJ and Tanner, who were good for 3 points in week 6, so she is up to 42 total points.
Meanwhile, free agent Nick earned 24 points, leapfrogging all the guys for a season leading 33 points.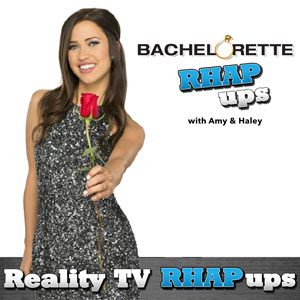 Subscribe to the Bachelor RHAP-up Podcast in iTunes[/caption]