In this RHAP-Up podcast, Amy (@RHAPRecapper) and Haley (@hstrong_) share their reactions from episode 11 of The Bachelorette 2014 where Andi Dorfman faces all the men she sent home in, "The Men Tell All".
Subscribe to The Bachelorette RHAP-up
Subscribe to Reality TV RHAP-ups (Main Feed)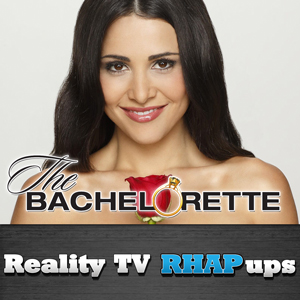 Click to Subscribe to
The Bachelorette
RHAP-up podcast[/caption]
In this week's Bachelorette RHAP-up, Amy (@RHAPRecapper) & Haley (@hstrong_) Tell All about "The Men Tell All!"
They start off by talking about how uncomfortable, unnecessary and long the first segment was, with former Bachelorette Ashley getting an ultrasound live on camera. Haley thinks the show likes to highlight the "success stories," but she wasn't excited to find out more about Ashley and JP. The sonogram revealed that it was a boy, but Amy and Haley had been told on Twitter that the couple revealed their baby's gender months ago. So it seemed yet another staged event by The Bachelorette. Amy thought they would have had more of a surprised or emotional reaction if this was the first time they learned this information.
Amy and Haley were much more excited to see the extended preview of Bachelor in Paradise, even if it didn't make too many things clearer about the show's premise and format. The 4 cast members in the audience were: Graham, Michelle Money, Chris Bukowski, and Sarah. The cast members from the current season are: Marcus, Marquel, Dylan, Cody and Tasos.
Amy and Haley appreciated the show having a sense of humor with all the guys coming out wearing scarves, a staple of the men's wardrobe this season. They also talk about the awkward exchange with Marquel, Ron, Andrew, JJ and the rest of the guys regarding the alleged incident of Andrew talking about "the two blackies" or "black guys." Amy noted it was the most airtime Ron has ever got on the show and didn't understand why everyone was piling on JJ. Haley thought JJ did not make his point clear. They both agree that Andrew is not good at defending himself and did not come across as believable, yet he had several people defending him because the show claimed they did not have the audio of the incident, yet they were able to show the video of him leaning over to talk to JJ during the rose ceremony.
The first guy called to the hot seat is Marquel. Amy and Haley talk about whether he has a shot to be the Bachelor, of if the show is just trying to give fans what they want by highlighting him as a fan fave and using him to promote Bachelor in Paradise. They appreciated his cookie pin on his lapel and how he threw cookies to the audience. Chris seemed to be forcing Marquel to admit he did something wrong that prevented his relationship with Andi from going further.
Next Marcus is called up to talk with Chris Harrison. Haley thought it was unfair that Marcus had to rewatch his break up scene. Amy thought Marcus seemed a little down about the prospects of finding love, yet Chris Harrison still tried to tease that maybe Marcus will find love on Bachelor in Paradise.
Haley and Amy are pretty convinced that the show wants us to love the idea of Chris as the next Bachelor. However, his segment was pretty dull and it needed to be interrupted by a woman in the audience who wanted to move to Iowa to date Chris. This also appeared staged. Chris Harrison seemed to go into Jeff Probst Talk Show mode by insisting Chris and Petra, the woman from the audience, go on a speed date during the commercial break. But Haley thought they seemed to have a bit of a spark. Maybe we'll see these two on the next season of The Bachelor.
Finally, Andi is brought out to answer the guy's questions. Haley notes how Nick S tried to insert himself into conversations that didn't really involve him. She also thought Andi looked flawless. They talk about Chris's awkward joke about Andi being pregnant, which seemed to be just so they could have a 'teaser' to promote the show. They also discuss the lie detector results, which just as Haley predicted, the show did not destroy. Haley revealed a truth of her own– that now she is more taken with Dylan than her long-time crush of Marcus! She thought they threw Marcus under the bus by revealing his lie about his "number," but she liked finding out that Dylan prefers blondes and is NOT ready for marriage. Amy and Haley talk about Andi's decision to not hear Josh's lies. Amy kept going back and forth about whether that meant that she was with Josh, and therefore trusted him, or was with Nick V. and didn't want to rub salt in the wound for Josh.
They RHAP-up by talking about the mysterious letter that Andi got from Chris Harrison in her dressing room at the end of the show, which he told her was from "one of her final two." Amy thinks it is from the guy who she did not pick. She thinks Nick is more the letter-writing type, but Haley thinks it could be Josh. They also answer listener questions and share some tweets from contestants and fans.
The draft standings are also discussed, and are as follows:
Locked in for 3rd place, with 74 points: Rob. He lost Chris last week, and he didn't even earn fantasy suite points since Andi booted Chris before asking him back to her hotel room. He had an early lead, but ended up having a lot of mid-range players who didn't get individual dates or any lip action.
In 2nd place, with 95 points: Amy. She has Nick V, her lone draft member since week 6. He helped her out by pulling moves like stealing Andi away for unsanctioned make-out sessions, but there's still a lot of ground to make up.
Way out in front, with 121 points: Haley. At his point, Josh M is matching Nick V kiss for kiss, so the only way Haley could lose at this point would be if Josh M quits or is booted by Andi early on without giving him any more kisses. Haley's picks of Marcus and Josh earned her a lot of date and kiss points throughout the season.
Be sure to tune in next week for Amy and Haley's podcast about the season finale and the After the Final Rose special!