In this RHAP-Up podcast, Amy (@RHAPRecapper) and Haley (@hstrong_) share their reactions from episode 9 of the Bachelorette 2014 where Andi Dorfman travelled to the four remaining guys' hometowns.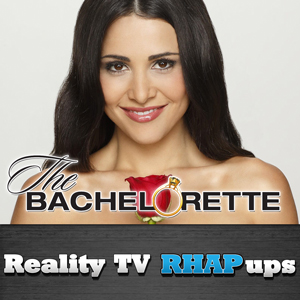 Click to Subscribe to
The Bachelorette
RHAP-up podcast[/caption]
It's the hometown episode with Andi's Final Four guys on The Bachelorette and Amy (@RHAPRecapper) and Haley (@hstrong_) are ready to share their reactions. First Haley shares a little bit about enjoying reading Courtney Robertson's new book "I Didn't Come Here to Make Friends."
Then they dive into Andi's hometown dates, starting with the first date with Nick in Milwaukee, Wisconsin. They thought Nick had a cute date, in spite of his lack of polka dancing skills and making Andi wear a cheesehead hat. His special "Nick and Andi love brew" at the brewery was a nice touch that they both found unique and not as cheesy as other typical date moves on the show. Nick's large family was loveable, especially his younger sister Bella who grilled Andi about her feelings for her brother. Amy and Haley talk about whether or not Nick should have said "I love you" to Andi and if that impacted his chances with her or not. Haley would be interested in getting matched up with one of Nick's brothers if Nick is not available.
Next up is Chris's home-on-the-farm date in Arlington, Iowa. Like Andi, they were impressed with his large home but realized the real estate market would be a lot different in a small town in the midwest. Amy and Haley were fooled by last week's preview that showed Chris suggesting Andi be a "homemaker," when it turned out it was just a sarcastic comment. Haley thought Chris was looking good on this date, just like Andi who said he was "the hottest farmer ever." Andi sat on Chris's lap in the tractor and then was treated to a picnic in the field while a plane flew overhead with a banner that read "Chris Loves Andi." Haley thought it was way too cheesy, but Amy appreciated that it was at least something that she doesn't think had been done on the show before. They also liked Chris's family and how they played "Ghost in the Graveyard" after dinner, but thought his mom may have been rushing things a bit when talking about their future kids.
Josh had the next date in Tampa, Florida and started off taking Andi to the baseball field for a one-on-one game. Haley was not buying his ongoing story of why he quit baseball and also thought Andi should have been a little more willing to let Josh and his family talk about his brother Aaron's football draft. They both thought Andi looked like she could be related to Josh's family, or look like the mom in 20 years. Once again it was another likeable family without any real drama they would hope to see in a family visit episode. Haley was also a fan of Josh's brother however, but commented that Andi and Josh's relationship still seems very surface-level.
Marcus was Andi's final hometown date in Dallas, Texas. He gives her a tour of his town and then takes her to a club where he performs his aviator striptease from his first group date. Andi and Haley were loving it, but Amy found it "awky-milwaukee" and "uncomfy." They thought Marcus had a nice moment of bonding with his brother but all around their family dinner was not too memorable. As typical with Marcus, he went overboard with telling her he was in love with her. Amy and Haley did not really see any deep connection with them in spite of what Marcus was saying.
Next they discuss Chris Harrison breaking the news about Eric Hill's passing to the four guys and Andi. They thought it was compelling to watch, but a sensitive moment that should have been private rather than filmed. Haley thought Andi's reaction was what viewers had wanted to see from her on the earlier episode– her emotions understandably were very raw and real. Haley thought it was interesting to see the 4th wall being broken when the crew came to comfort Andi and the guys– yet still left the cameras rolling.
At the rose ceremony, Amy and Haley were both shocked that Chris was selected this week and that Marcus was eliminated. They felt Chris had less of a bond with her throughout the season and it's possible that his hometown visit could have swayed her opinion. Because they recorded the show soon after the episode aired, they didn't have time to get their draft scores updated, but it's interesting that Amy, Haley, and Rob each picked one guy in the final 3. They RHAP up the podcast with a couple questions from Twitter and Facebook and share some tweets about the episode.