Subscribe to The Bachelorette RHAP-up
Subscribe to Reality TV RHAP-ups (Main Feed)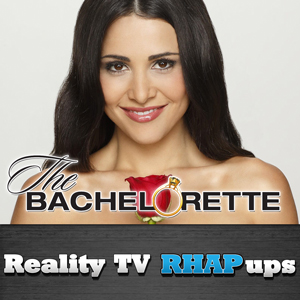 Click to Subscribe to the Bachelorette RHAP-up podcast[/caption]
In this RHAP-Up podcast, Amy (@RHAPRecapper) and Haley (@hstrong_) share their reactions from episode 5 of The Bachelorette with special guest Randy Bailey.
On this special edition of The Bachelorette RHAP-up, Amy (@RHAPRecapper) and Haley (@hstrong_) welcome a special guest: two-time "Survivor" (Gabon, Heroes vs. Villains) and "Bachelorette" fan, Randy Bailey. First, Haley and Randy share that they have patched things up since the "Miracle on RHAP Street" phone call from the RHAPpy Holidays 2 podcast. Then Randy shares what appeals to him about watching "The Bachelorette" as well as his thoughts on the selection of Andi Dorfman as the lead this season and on Juan Pablo last season. Randy also mentions some of the former contestants from past seasons he enjoyed watching, such as Courtney from Ben's season, and talks about his views on going on a show like "The Bachelor."
There was no new episode of "The Bachelorette" this week aside from a "recap episode" with a small amount of new footage including Taso's exit, so Haley and Amy do their own recap of the season with Randy to get his impressions of each episode. They start out by talking about the premiere and the limo entrances, including the memorable line by Emil ("It's like 'anal' with an 'm'.") Randy also shares his thoughts on the party crasher, Chris Bukowski, and producer involvement in various elements of the season. Randy also talks about edits and portrayals on reality TV, informed by his experiences on "Survivor" as well as meeting reality TV "characters" in real life.
Next they talk about Episode 2, which saw 1-on-1 dates with Eric and Chris and the group stripper date. They talk about the portrayal of Eric Hill, the contestant who passed away after he finished filming. They also discuss the drunken behavior of Craig during the group date.
In Episode 3, Nick V and JJ got the 1-on-1 dates and the group date had the guys singing with Boyz-II-Men. Randy likes Nick V but is less impressed with the "pantsapreneur." Like Haley, Randy was not a fan of the "old people" date. He pointed out that JJ looked creepy yet Andi looked the same except with a gray wig. He also can't believe the guys all sang as bad as they did.
Then they cover Episode 4, with Dylan's depressing train date and Marcus's daredevil casino date, along with the group date on the basketball court. Randy is skeptical about the basketball game against the WNBA players, as well as Brian's half-court shot being completed in one take. Randy, Amy, and Haley also talk about Eric's exit from the show. Randy has a lot of respect for Eric and thinks he was probably right in his assessment of Andi's "poker face."
They "rhap up" by discussing who they think are the frontrunners and who will be next to go, and Randy also answers questions that came in from Facebook and Twitter, including one from Eric Stein who is to thank for recommending Randy as a podcast guest.