In this RHAP-Up podcast, Amy (@RHAPRecapper) and Haley (@hstrong_) share their reactions from episode 8 of The Bachelorette.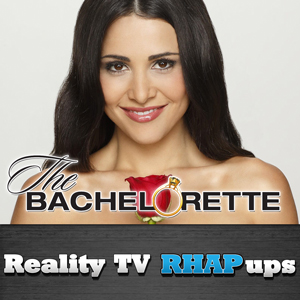 Click to Subscribe to the Bachelorette RHAP-up podcast[/caption]
Amy (@RHAPRecapper) and Haley (@hstrong_) took some time during the festive Canada Day/Independence Day week to recap Andi's dates with her "Sweet 6" in Belgium as she made the all-important decision about who would make the cut for hometown dates.
They start off talking about the plethora of scarves worn by the men throughout this season of The Bachelorette. Chris, Nick, and Marcus were offenders this episode. They then discuss Marcus's one-on-one date which they didn't find to be all that memorable. Marcus and Andi walked around exploring Brussels and eating mussels. Marcus explained that the reason he considered leaving the show was because he was scared of his feelings for Andi. He also told Andi he was in love with her, but in a very monotone, matter-of-fact way. They didn't feel the chemistry. Haley was appreciative that Marcus saved his personal story about his dad being out of the picture and his dysfunctional relationship with his mom for later in the season– unlike the guys who can't wait to blurt out their sob stories on night one. Amy noticed that Andi talked about Marcus in a more general sense, saying he would be a great husband and father, but not really reflecting on her connection with him.
They also talk about the central theme of the episode, which was Nick V continuing to talk as though he is the frontrunner, and the other guys being upset with him and claiming he's not right for Andi. Unbeknownst to the guys, Nick left the hotel room and went to the lobby to claim he forgot his room key and room number. The front desk clerk believed Nick's story and gave him a key to Andi's room. She was happy to see him and they snuck off to walk around the city at night. Haley has some experience in the tourism industry and felt it was highly unlikely that a hotel clerk would so readily give away a key, and was pretty sure this was staged, similar to the Chris Bukowski "party crasher" scene from the premiere. Both Amy and Haley ultimately liked the move from Nick, because it showed he wanted to spend more time with Andi and it seemed like more of a real date than the elaborate ones planned by the show.
Next Josh gets his "Let's Ghent it on" date card. Andi says he has a personality that every girl is attracted to- "outgoing, funny, and lively," but she wants something more from him. Amy and Haley don't really see much of his personality, and think she has more of a physical connection with him. However, Andi gets him to admit that he is falling in love, which she said was a comforting feeling. On their date, Andi and Josh did something unique, which was watch a goose parade, but also something cliché– yet another private concert, this time with the band American Young. Josh also attempts to rival Andi and Nick's makeout time from when they snuck out and kissed against a tree, by pulling Andi into a doorway for a makeout session.
The group date card says "Love is sacred" and Andi takes Nick, Dylan, Brian and Chris to a monastery where there is a strict "no kissing" rule in place. They also visit some ruins and ride a rail bike, and she also pulls Chris aside to recreate the pottery scene from "Ghost." Amy and Haley discuss Andi's decision to give Nick the rose on the date, allowing him to have one-on-one time and sending the other three guys home. They also talk about the other guys' comments about Nick being a "snake," a "salesmen," and not there for the "right reasons." Amy and Haley still feel Nick is genuine but the show seemed to be presenting him with more of a villain edit this week, or at least as the guy all the other guys hate. When Nick returns from the date, he is met with icy silence. The guys eventually confront him, saying he is all about strategy and game plans and that it makes them uncomfortable that he has seen every season of Haley thinks the other guys are just jealous. Amy points out that she thinks Nick said that he watched Desiree's entire season, not that he had seen every season, so the other guys may have been exaggerating on that. However, both Haley and Amy think it was a turnoff that Nick may know the show inside and out, so that is one place he lost points from them this episode.
Amy and Haley reveal that they were not shocked to see Dylan and Brian go home this episode, and Haley notes that she called the final 4 very early on. They both think Chris will not make it past hometowns, as Andi does not have as strong as a connection with him and the previews where he suggests that she can be a  homemaker in Middle-of-Nowhere, Iowa  are not doing him any favors. They then share some tweets about the show from JJ O'Brien, John Cochran, Jun Song, Kelly Travis, Nick Viall and more, as well as answer a few listener questions.
They also share the results of the draft with a new runaway leader in the clubhouse: Haley is going Strong with two remaining guys, Josh and Marcus, who had the two one-on-ones this episode.
Current standings:
Haley: 74 points (up from 53 last week). Both her guys (Josh and Marcus) stay in the game and earn her points for one-on-one dates and a lot of kisses from each.
Rob: 62 points (up only 3, from 59 last week). A rough week for Rob as he loses two of his bros, Dylan and Brian, and Chris only earns him a couple of extra points for a few stolen kisses. (*note: Amy mistakenly says 61 points in the episode, but it is corrected here.)
Amy: 60 points (up from 43 last week). Amy is grateful for Nick's mischief-making on this episode, because his bonus Belgium sneakaway date, plus his extra time on the group date, gave him a lot of makeout time– racking up a lot of kiss points to help Amy get a fighting chance.