In this RHAP-Up podcast, Amy (@RHAPRecapper) and Haley (@hstrong_) share their reactions from episode 7 of The Bachelorette.
Subscribe to The Bachelorette RHAP-up
Subscribe to Reality TV RHAP-ups (Main Feed)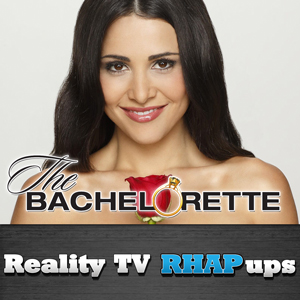 Click to Subscribe to the Bachelorette RHAP-up podcast[/caption]
Andi's taken her 8 remaining men to Venice, Italy and Amy (@RHAPrecapper) and Haley (hstrong_) are back to recap everything that went down on Episode 7 of The Bachelorette. They start off by chatting about Venice and revealing their results of the Top 8 Guys Soulmate Quiz: https://robhasawebsite.com/take-the-who-is-your-bachelorette-top-8-soulmate-quiz/. They each got the top remaining guy from their draft: Amy with Nick V (the only draft player remaining for her) and Haley with Marcus.
Then they go into Andi's one-on-one date with Nick and her decision to select him for a second date ahead of Cody who still hadn't had one individual date. They discuss Andi's reasons for selecting Nick, how Nick came across in this date, and the different elements of the date. Both agree that Andi and Nick have a very comfortable chemistry and that Nick looked great in his tux. They were less enthused about the masks and the forced metaphor that Nick was "masking his feelings" for Andi, as well as the private concert with Italian musicians.
Up next is the group date which featured a unique curveball for the guys: a lie detector test. They discuss Josh's panicked reaction to the lie detector as well as the questions Andi and the guys were asked. Haley and Amy felt that Dylan was thrown under the bus, as he was the only one shown being asked about his number of sexual partners and admitting to not washing his hands after using the bathroom. They also talk about the reveal that Chris had been writing Andi the "Secret Admirer" letters and share their reactions about JJ's outburst during the cocktail portion of the date when he refused to celebrate the fact that Chris got the rose. They also talk about Brian's move of creating a faux lie detector test, Dylan needing to abruptly leave the date, and Marcus dropping the bomb that he considered leaving the show.
Cody finally gets his one-on-one date but Amy and Haley didn't need to write to Juliet to find out whether he'd be sent packing. Both were shocked that he lasted as long as he did, but felt he had a good exit from the show. They discuss the date activity of answering letters at the Club to Giulietta and how Cody seemed desperate to stick around so that Andi would eventually fall in love with him.
The go into Nick's decision to steal Andi right away at the final cocktail party even though he already had a rose and the negative reactions of the other guys. They both express surprise and sadness that JJ was the one eliminated, as he was a fun contestant. However they are still #TeamMarquel for consideration for the next Bachelor at this point, and they discuss how Marquel has been announced as a participant in the upcoming Bachelor in Paradise.
Haley and Amy RHAP up by answering listener questions and sharing tweets from current and past contestants as well as Bachelorette RHAP-Up podcast listeners.