Subscribe to The Bachelorette RHAP-up
Subscribe to Reality TV RHAP-ups (Main Feed)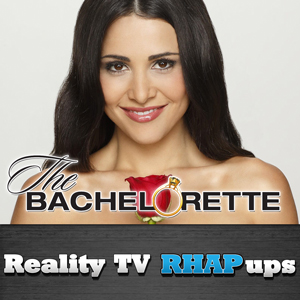 Click to Subscribe to the Bachelorette RHAP-up podcast[/caption]
In this RHAP-Up podcast, Amy (@RHAPRecapper) and Haley (@hstrong_) share their reactions from episode 6 of The Bachelorette.
Andi and her remaining men have travelled to Marseilles, France and Amy (@RHAPrecapper) and Haley (@hstrong_) are back to recap all the overseas action in Episode 6 of the "The Bachelorette."
They start off by discussing Andi's one-on-one date with Josh, the former baseball player. It's evident that the two of them have a lot of physical chemistry, but did their connection go any deeper? Amy and Haley talk about Andi's hesitation with Josh because she had bad experiences with athletes cheating on her in the past. Haley was not pleased to see that Andi had yet another private concert date– this time with a musician named Ben Fields.
Next they discuss the drama back at the hotel suite, when JJ and Nick inform Marquel of something that Andrew allegedly said to JJ about Andi- that "she picked the two blackies." They discuss how Marquel got a great edit this episode and it was the first time the show has every really addressed the issue of race. Haley mentions that many people have been clamoring for Marquel to be the next Bachelor and both think he would make a good choice for the role.
The group date started out with the men acting as mimes. Haley and Amy liked the mime outfits on the guys, even though most of them weren't too stellar at performing. They thought JJ and Marquel did well, and they impressed Andi also. All the silence of their mime performance quickly disappeared during the cocktail portion of the date, when Cody confronted Nick for mocking him and Marquel confronted Andrew about what he heard. Amy and Haley thought Nick came off well in his chat with Andi where he admitted to mocking Cody, and they thought Marquel did a good job explaining his position to Andrew in front of the other guys. They also felt JJ was a good choice for the rose on the date because he pulled Andi away to the Ferris Wheel.
The next one on one date was with Brian, and both Amy and Haley thought he was going to be a goner with the way their cooking date was portrayed. They liked how Brian was able to redeem himself, and felt the date seemed realistic, but they wondered why he was so off his game in the kitchen. Is it really because he is just that uncomfortable cooking?
For the rose ceremony, Andi decided she didn't need any more time with the guys– her mind was made up. She sent Andrew, Patrick and Marquel home. Amy and Haley were sad to see Marquel go and are surprised Cody is still hanging in there. Other than that, it was pretty predictable because the other guys booted were ones who never got a one-on-one date with her.
Amy and Haley RHAP up by answering listener questions, sharing a few tweets, and going over the draft scores. The standings are as follows:
Amy trails with 27 points and only 1 contender (Nick V) remaining after Marquel was eliminated. Nick earned her 4 points this week for a few kisses and earning a rose.
Haley sits comfortably with 44 points and 3 men still in the game (Marcus, Josh M, and Cody). Josh helped her earn the bulk of her 13 points this week– getting 10 points for many kisses and his 1-on1 date. Patrick was eliminated from Haley's team this week.
Rob has a solid lead with 51 points and four guys still in the mix (JJ, Dylan, Brian, Chris) even after he lost Andrew this episode. Rob earned 12 points this week– most coming from Brian's one-on-one and restaurant smooches.