In this RHAP-Up podcast, Amy (@RHAPRecapper) and Haley (@hstrong_) share their reactions from episode 10 of the Bachelorette 2014 where Andi Dorfman decides whether or not to enjoy overnight dates with the final 3 bachelors.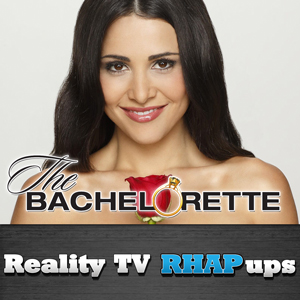 Click to Subscribe to
The Bachelorette
RHAP-up podcast[/caption]
Amy (@RHAPRecapper) and Haley (@hstrong_) are back to recap Andi's fantasy suite dates in the Dominican Republic with her final 3: Nick, Josh and Chris. They start off the show by discussing the recent announcement of the full
Bachelor in Paradise
cast list and the twist of having new contestants coming into the show each week. The three guys from Andi's season in the cast are Marquel, Dylan, and Marcus, but Cody and Tasos will also make an appearance. Haley and Amy were happy to see that Kalon from Emily's season was another addition, sure to add to the drama. The full list can be seen here: 
http://www.people.com/article/bachelor-in-paradise-cast-surprising-twist
.
Amy and Haley felt the overall episode and the dates felt a little uneventful. Andi's first date was with Nick, who continues to get the frontrunner edit as Andi describes their unbelievable mental and emotional connection, as well as the passion between them. Nick gets treated to his first helicopter ride and they travel to a private island. Amy and Haley talk about how Andi was really pressing Nick for information about his past relationships. Andi and Nick also went snorkeling before heading to dinner, where Nick planned to finally say "I love you" to Andi. Amy and Haley were not a fan of Nick's fairytale book that he wrote to lead up to sharing his feelings, but Andi ate it up. They talk about how Nick always seems to need a tree during his makeout sessions. They also comment about how it seemed uncharacteristic of the show to hardly give any glimpses of the fantasy suites.
Josh's date was next, and he and Andi walked around the town, spoke a little Spanish, did a little dancing, and sampled some aphrodisiacs. Then Andi treated Josh to a kids' baseball game. Haley thought it was a good activity for him but Amy thought Josh got a raw deal in terms of fantasy dates compared to Nick's private island. Both Amy and Haley thought that Andi and Josh's conversation was pretty dull and stilted as they talked about their futures as potential parents. While Josh also told Andi he loved her, he didn't seem as genuine as Nick in their opinion. Josh and Andi also had fireworks at the end of their date which they carried over into the hotel pool.
The drama of this episode centered around Andi's final date with Chris, in which she took him horseback riding and then played Ghost in the Graveyard once again. Amy did not think it was a good sign that Andi's voiceover was her talking a lot about how pretty the scenery was, rather than how happy she was to be with Chris, especially since the scenery did not seem all that remarkable. They talk about her conversation with Chris over dinner, when she grills him about life in Iowa and whether she could have a fulfilling life there. They note that Andi seemed checked out of the conversation and that Chris probably saw the writing on the wall. Haley thinks earlier in the date that Andi was trying to recreate the fun they had on the hometown date but ultimately Chris should have seen that he did not have as strong a connection with her and might not have been surprised. They felt Chris handled himself really well when Andi let him go. Andi even managed to make Chris console her while she was dumping him. They also talk about whether Chris is in contention to be the next Bachelor.
They RHAP-up the show by answering listener questions about the episode relating to Andi's bedwetting confessions, whether the edit is too predictable, and if the show is in need of a new date planner. They also share some tweets from fans and contestants such as Sean and Catherine, Tasos, and Andi herself, as well as a couple of Survivors who were watching the episode: Aras and Sophie.
Amy and Haley share their thoughts on what might happen at the finale in two weeks based on the preview. They are also  looking forward to seeing what secrets are revealed at the Men Tell All episode next week and will have updated draft results at that time.