In this RHAP-Up podcast, Amy (@RHAPRecapper) and Haley (@hstrong_) share their reactions from episode 12 of The Bachelorette 2014 where Andi Dorfman chooses Josh Murray over Nick Viall in an emotional finale and "After the Final Rose".
Subscribe to The Bachelorette RHAP-up
Subscribe to Reality TV RHAP-ups (Main Feed)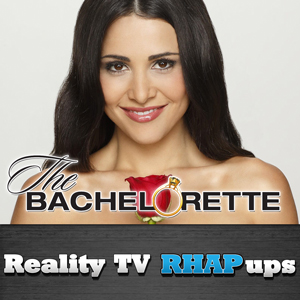 Click to Subscribe to
The Bachelorette
RHAP-up podcast[/caption]
After this finale, Amy (@RHAPRecapper) and Haley (@hstrong_) just cannot even. Not wanting to bury the lead, they dive right into their shock and sadness over Andi rejecting Nick Viall, who had been the frontrunner in their eyes (and in the show's edit) all along, in favor of Josh Murray, the former baseball player. Amy mentions she was a little prepared to be disappointed, since the show released the content of the letter beforehand and there were some telltale phrases to give away that it was Nick. Chris Harrison also teased at the top of the show that Andi's "heartbroken man" has tried repeatedly to contact her but she wasn't ready to speak to him. Amy also thought that was a giveaway about Nick. Haley however thought that Josh might be the persistent one who was trying to show up and talk to Andi in Mexico and at the "Men Tell All." Both Amy and Haley were really shocked when Andi showed up at Nick's door when they were expecting it to be Neil Lane, so they praise the editors for keeping them in suspense.
One major talking point is Nick's admission during his questioning to Andi where he said: ""Knowing how in love with you I was, if you weren't in love with me, I'm just not sure why, like, why you made love with me." Amy and Haley were surprised he said that and could understand Andi's reaction, calling it "below the belt" and "private." However, they ultimately feel he didn't do it to be vindictive but that he was really hurt and looking for answers, but probably should have phrased it another way. They also discuss whether Andi could have allowed him to talk to her at another moment, but agree that the show probably had some influence. They also try to assess some of the signs they may have missed about her connection with Josh, who she called "too good to be true."
Amy also reads some excerpts from Nick's letter and they discuss why the show might have released that since it was quite spoilery. Haley and Amy compare Andi's rationale for her decision with that of another woman on another dating show, VH1's Dating Naked, that Rob recently podcasted about with one of its contestants, Steven Brandon. They talked about how Taryn felt connected to and challenged by one of the men, Dar, who was not her type, but ultimately chose Andrew, who was her exact physical type. Andi said something similar, that she didn't want to judge Josh just because he was similar to all the guys she always dated. She ultimately chose him over Nick, with whom she said she had an amazing connection and who could see every part of her when he kissed her and made her feel like a woman.
They also talk about Josh and Nick's homemade gifts for Andi. It was humorous and fitting that Josh would give Andi a baseball card, but presumptuous that he put her name as Andi Murray, rather than Andi Dorfman. However, Andi loved this, saying "If a guy puts his last name on you, he's serious." Nick gave Andi a necklace filled with sand from their dates, which they liked as well. So both guys fared well in the arts and crafts and creativity department.
Because they were too wrapped up in all the action and drama of After the Final Rose, Amy and Haley didn't go into detail about Andi's final two dates with Nick and Josh or the meetings with Andi's parents. However they did comment on how Andi seemed to do a 180 with how she was treating Nick during their alone time, but Nick was not picking up the signals. They talk about how Andi and Josh seem very similar and maybe Andi was just looking for an easy, comfortable connection and there was more than meets the eye between them. They wonder if Andi was doing some revisionist history during her comments to Nick, or if it was true that she fell in love with Josh from the very beginning.
They also discuss the strange appearance of Grumpy Cat to close out the After the Final Rose and ponder why they have not made the announcement of the next Bachelor. Will it be Chris the farmer, or Arie the race car driver from Emily's season? Does Marquel still have a chance? Amy and Haley also reveal that all the fun they've had podcasting about The Bachelorette is not over yet– they will be covering Bachelor in Paradise starting next week!
There were a lot of comments and questions to tackle this week to RHAP up the season after this MOST DRAMATIC SEASON FINALE EVER and many conflicting opinions. Whether you're #TeamNick or #TeamJosh, thanks for following along and sharing your thoughts and making this journey so fun!