Amy and Haley discuss Episode 9, as the final three women (Caila, Lauren, and Jojo) are in Jamaica for fantasy suite dates with Ben Higgins.
In this podcast, they talk about:
Caila's river raft date with Ben and saying "I love you" to him
Lauren's sea turtle date with Ben and their intense chemistry, including Ben saying "I love you" back to Lauren
JoJo's waterfall date with Ben, including Ben ALSO saying "I love you" back to JoJo
Caila visiting Ben and then getting surprise-dumped
The uneventful rose ceremony  as two roses are given to two women
and more!
They share an iTunes review from listener Ryan (not Sutter) in the form of a poem and provide the update that #TeamRandworth already won the draft. Follow Scorekeeper George on Twitter (@GeorgeCTV) for full draft point details.
Follow Amy (@RHAPrecapper) and Haley (@hstrong_) on Twitter and share your thoughts in the comments!
And tune in next week for special Women Tell All podcast coverage with Amy, Haley, Ali Lasher and Lita Brillman.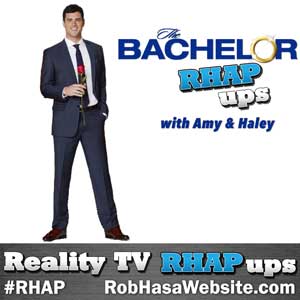 Subscribe for weekly RHAP-ups with Amy and Haley![/caption]