Amy and Haley are joined by Jordan Parhar from Big Brother Canada and The RHAPpy Hour to discuss The Bachelor Season 20 Episode 3, as Ben Higgins goes on two one-on-one dates with Lauren B. and Jubilee, as well as a soccer group date.
In this super-sized podcast, they talk about:
The airplane, hot tub in a field, private concert one-on-one date with Lauren B.
Jubilee worrying about not getting a date
Caila freaking out about other girls getting dates
Olivia's $40,000 wardrobe
Olivia and Ben's secret language
Olivia's cankles and toes
The soccer group date with Amanda, Haley, Jennifer, Shushanna, Leah, Amber, Lauren H., Olivia, Jami, Rachel, Lace, and Emily
Jubilee's one-on-one date
The "mean girl" behavior in the house
Jubilee's one-on-one date at the spa in which she shared more details about her past in Haiti
Rachel getting some airtime
Reactions to Jubilee's comments about not wanting her date
Reactions to Jubilee giving Ben a massage
Olivia's tone-deaf conversation after Ben shared that he had lost two people in a tragic accident
Lace choosing to leave the mansion to focus on herself
The elimination of Shushanna and Jami
Jami wanting to adopt cats
Bachelor Live with guests Molly, Jason, Paget Brewster, Paul F. Tompkins, and Jon Mulaney and Nick Kroll as their "Oh Hello" characters
and more!
While Haley snuggles in her bed, Amy has Jordan play a few rounds of the #SeanTweets game (inspired by RHAP's #RupertTweets).
[playbuzz-item url="//www.playbuzz.com/rhaa10/what-is-your-bachelor-love-language"]
As always they provide an update of Draft Scores, share an iTunes review of the week, and answer listener questions. Follow Scorekeeper George on Twitter (@GeorgeCTV) for full draft point details.
Follow Amy (@RHAPrecapper), Haley (@hstrong_), and Jordan (@jordanparhar) on Twitter and share your thoughts– and your quiz results– in the comments!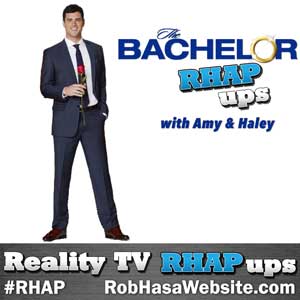 Subscribe for weekly RHAP-ups with Amy and Haley![/caption]