Amy and Haley recap The Bachelor Season 20 Episode 2, as Ben Higgins goes on two group dates and his first one on one date with Caila.
In this podcast, they talk about:
The back-to-school group date with Jackie, LB, Lauren H, Becca, Amber, Mandi, Jojo, Jubilee, Jennifer, and Lace
Mandi winning Homecoming Queen
Ben's alone time with Becca, Jojo, Jubilee and Lace
Jubilee revealing she was adopted from Haiti at age 6
Becca and Jojo not knowing where Indiana is
The drama caused by Lace monopolizing Ben's time
Jojo winning the group date rose
Olivia's mouth
Caila's one-on-one date with Ice Cube and Kevin Hart from Ride Along 2
the creepy science date with Olivia, Emily, Haley, Amanda, Sam, and Shushanna
Ben calling Samantha's smell "sour"
Olivia winning the group date rose
Olivia rubbing the other women the wrong way
Amanda revealing to Ben she is a mom
Ben's cocktail party crafts and gifts
LB leaving the rose ceremony by choice
Jackie, Samantha and Mandi getting eliminated at the rose ceremony
Amber complaining about not getting time with Ben
and more!
Amy also has Haley play a new game, inspired by #RupertTweets, called "Sean Tweets." As always they provide an update of Draft Scores, answer listener questions, and share tweets from #BachelorNation. Follow Scorekeeper George on Twitter (@GeorgeCTV) for full draft point details.
Follow Amy (@RHAPrecapper) and Haley (@hstrong_) on Twitter and share your thoughts in the comments!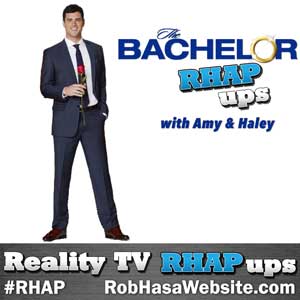 Subscribe for weekly RHAP-ups with Amy and Haley![/caption]