Amy and Haley are excited to talk about the Bachelor Season 20 Premiere and their first impressions of the 28 women competing to win the heart of Ben Higgins.
In this podcast, they talk about:
their excitement getting back into the podcasting season after a winter break
reactions to Ben's hometown intro package in Indiana farmland
the video packages shown of Lauren B, Caila, Jubilee, Mandi, Twins Emily and Haley, Amanda, Tiara, and Sam
Ben's appeal and poise as the Bachelor
Becca Tilley and Amber James, returning contestants from Chris Soules' season, and their connections with Ben and the reactions of the other women
the good and the bad of the entrances, including Maegan's mini horse Huey, Mandi the wacky dentist with a rose hat, Breanne's satanic bread, and Jojo with the unicorn mask
Lace's drunken jealousy and attempts to kiss Ben
Olivia's first impression rose
and more!
As always they provide an update of Draft Scores, answer listener questions, and share tweets from #BachelorNation. Follow Scorekeeper George on Twitter (@GeorgeCTV) for full draft point details.
Follow Amy (@RHAPrecapper) and Haley (@hstrong_) on Twitter and share your thoughts on the premiere in the comments!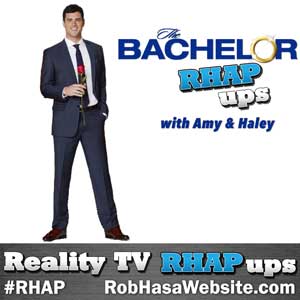 Subscribe for weekly RHAP-ups with Amy and Haley![/caption]