The Bachelor Chris Soules and his final 3 women finally made it out of the U.S. and Amy and Haley are back to podcast about the fantasy suite dates in Bali. Both of them felt like this episode lacked in drama and intrigue, since Chris eliminated all of the crazies and drama queens a few episodes back.
In this podcast they discuss:
Chris and Kaitlyn's temple date with the monkeys
Chris telling Kaitlyn he's falling in love with her– did he break the rules?
Chris and Whitney's boat date
Whitney telling Chris she will give up her career as a fertility nurse to have babies with him in Iowa
Chris and Becca's date wandering around the countryside of Bali
Becca finally telling Chris she's a virgin and his awkward reaction, loudly sighing, when she tells him
Chris and Chris having a heart to heart– surely it was very important and interesting
Chris waffling between two women
Is Whitney the frontrunner or is editing trying to trick us?
A former prominent contestant allegedly dating Jeremy Piven?
Chris dramatically pulling Becca aside at the rose ceremony
The women's traditional dress at the rose ceremony and the rules about showing affection inside the temple walls
Kaitlyn's goodbye and potential as the Bachelorette
Tweets and questions from RHAP-up listeners
Amy also reluctantly provides an update of the draft after missing it last week. The draft standings are: Amy in a distant 3rd, with all of her contestants eliminated, at 48 points, Rob in a respectable second place, with Becca taking him to the Final 2, at 101 points, and Haley in a fairly comfortably lead, losing Kaitlyn this week but hanging onto Whitney for the Final 2, at 118 points.
Tune in next week for the Women Tell All.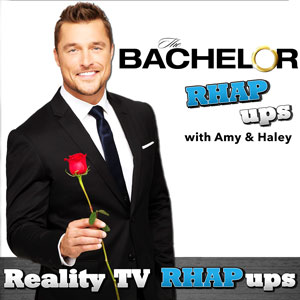 Subscribe to the Bachelor RHAP-up Podcast in iTunes[/caption]