After watching an exhausting 5 hours of The Bachelor this week, Amy and Haley rallied to recap it for you in the the RHAP-up podcast.
They discuss:
Megan being sent home in Deadwood, South Dakota
The remaining women (Carly, Britt, Jade, Whitney, Becca, Kaitlyn) heading to Arlington, Iowa after Chris Soules changed the rules at the rose ceremony
Jade's one-on-one date in Arlington at the high school football game and her reaction to the deserted town
Whitney's one-on-one date in Des Moines taking photos and meeting his friends
Becca, Carly, Kaitlyn and Britt taking a spontaneous road trip to Arlington, IA and being shocked at how small it is
The hockey group date with Carly, Kaitlyn and Britt
Britt's reaction to Kaitlyn getting the rose
Carly warning Chris that Britt was fake about her thoughts on Iowa
Becca's one-on-one date in Des Moines
Britt saying she packed her bags and pulling Chris aside right at the start of the rose ceremony
Britt's tearful exit and Carly's elimination and confessionals about Britt
The hometown dates of Jade, Whitney, Becca and Kaitlyn
Chris and Kaitlyn's rap
Becca's family talking about her experiences with men and Chris taking her to a Ferris wheel at the Louisiana state fair
Whitney showing Chris the fertility clinic and pretending to ask him for a "specimen"
Whitney's sister not giving Chris her blessing
Jade's family calling her a "wild mustang" and Jade revealing to Chris that she posed nude in Playboy, and then showing him the photos and video
Whether Jade's past influenced Chris's decision
Thoughts on who may have a chance to be on The Bachelorette or Bachelor in Paradise
Their utter shock at Becca making it to final three (Who saw that coming??)
Thanks as always for sending in your questions on Twitter and Facebook and sharing your thoughts in the comments. Tune in next week for the Fantasy Suites (and possibly finally leaving the country?!).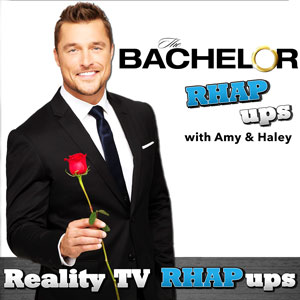 Subscribe to the Bachelor RHAP-up Podcast in iTunes[/caption]