In this RHAP-Up podcast, Amy (@RHAPRecapper) and Haley (@hstrong_) share their reactions from  the premiere episode  of Bachelor In Paradise.
Subscribe to The Bachelor In Paradise RHAP-up
Subscribe to Reality TV RHAP-ups (Main Feed)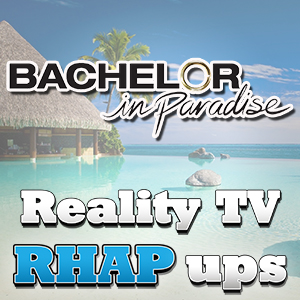 Click to Subscribe to
The Bachelorette
RHAP-up podcast[/caption]
Summer is heating up with the new show Bachelor in Paradise, and Amy (@RHAPRecapper) and Haley (@hstrong_) are eager to leave the pain of Andi choosing Josh over Nick behind them and move on to the rotating cast of bachelors and bachelorettes hoping to find love or 15 more minutes of fame in Mexico.
They start off with Haley giving a brief synopsis of the way the show works, with an uneven number of guys and girls so that a couple people are eliminated each show if they are not paired off. This week it was the girls turn to be in the majority, leading to 2 of them being sent home. There are also late arrivals to keep things interesting. Next week, 2 men will arrive to the resort so that the women will have extras to choose from and could change up their pairings. Amy describes it as "romantic musical chairs."
Next they talk about their impressions of the cast overall. Both Amy and Haley thought there were a few nobodies, such as Lacy and Robert, who were eliminated the first episode of their seasons. Yet it turns out they were two of the stars of the premiere. They discuss how Clare is toned down from Juan Pablo's season, and Ben did not have much airtime although he was a "villain" on Desiree's season. Haley also breaks down the sanity power rankings of the female cast members, with Sarah at the top (most sane) and Ashlee at the bottom (least sane). They discuss Ashlee's obsession with Graham, claiming him after 18 hours and essentially forcing Clare to rescind her invitation to him for the first one-on-one date.
They also discuss Michelle Money and her history with Graham and her selection of Marquel for the one-on-one date. Haley sensed a little chemistry between them and thought Michelle was also one of the more sane, self-aware women who gave great confessionals and seemed to understand what was going on even as a late arrival. Amy compared Graham to Brooks from Desiree's season, someone who made it far and seemed to be the frontrunner, but then abruptly broke things off with the Bachelorette without a clear explanation, leaving her heartbroken. She wonders if there will be more to the story between Michelle and Graham or if they are both content to remain friends. They talk about whether Graham will stay tethered to Ashlee or if the "red flags" will eventually add up for him. They also talk about Ashlee and Clare's discussion as well as Clare confiding in a raccoon.
They also talk about Marcus and Sarah's grotto date, and Sarah asking Marcus to kiss her before they took a dive. Haley gives Sarah props for seizing what she wanted. She thinks there wasn't a ton of chemistry on either side, but that Sarah just wanted bragging rights that she kissed a hot guy. Haley also thinks Dylan was cast to just be the voice of reason for Marcus, who showed a lot of emotion this episode, from not being over Andi to suddenly being head over heels for Lacy and jealous that she was interested in Robert as well.
They talk about Lacy's #BIPLoveTriangle with Robert and Marcus. Amy feels Lacy is like a goldfish, with a short-term memory and attracted to whatever shiny object is right in front of her. She seemed to settle on Robert, choosing him for her one-on-one date, but then when Marcus chose her at the rose ceremony, she seemed to forget about Robert entirely. They talk about how Marcus saved Clare in a way, because he had hinted he would pick Sarah, and Robert would have picked Lacy. Because Marcus changed his mind, going after the girl he was attracted to, that left Robert to pick Clare, who took him on the date to the pyramid. They also talk about Dylan and Elise's quick connection and ocean rendezvous, as well as Elise being so ready to drop the "L bomb."
They RHAP-up by talking about some of the things teased in the preview for next week, such as Chris Bukowski's arrival and explaining why Michelle K left the rose ceremony and had strange comments during her exit about finding love. They also answer a few questions from listeners and share some tweets about Ashlee's crazy eyes, Marcus's tighty-orangies, Clare-adise, and the lack of scarves this season.