Subscribe to The Bachelor In Paradise RHAP-up
Subscribe to Reality TV RHAP-ups (Main Feed)
The summer's most exciting and romantic show has come to an end, and Amy (@RHAPRecapper) and Haley (@hstrong_) have some complaints about how it all went down that they need to sort through. Haley is fired up about Chris Harrison letting us all down and forcing couples who have only known each other a week or two to break up. Amy didn't like the ultimatum either. What happened to the big twist or test they were previewing? Haley and Amy go over some of the lame elements of the finale before delving into the fates of the shows couples. Who found love, who found heartbreak, and who found 2 seconds of screentime and a plane ticket home?
Ashlee and Graham: Ashlee was ready to take things to the next level with Graham before even arriving to Paradise. Graham stuck it out with her, but once Chris laid down the law, he was ready to bail. Michelle also counseled him that Ashlee was fake. Haley thinks Graham stayed all these weeks out of fear for his life. Amy felt let down by Graham's appearance this season and thinks he should have tried to get to know others.
Christy and Tasos: Christy and Tasos had a three-second conversation in which they decided to break up. Haley thought it was unfair that they were held to the same standard as the other couples since they just met last week. They showed a lot of promise on their date. Amy agreed, and didn't like how quickly the show dismissed them.
Zack and Jackie: Zack and Jackie had a similar "nice knowin' ya" two second clip on the show. In this case, Jackie was the one to call it off, but Zack didn't seem all that heartbroken about it. Amy was a little surprised that Jackie didn't want to move on with Zack since she picked him after getting to know many other guys in Paradise and they had a pretty steamy date. Jackie rejected Marquell, Jesse, and Brooks on her way to Zack, but they both left paradise separately.
Robert and Sarah: Sarah and Robert ran into some trouble in paradise. Perhaps the oddest turn of events of the night, and most surprising. Amy and Haley were not surprised that they decided to move to the next level and take the overnight date in the fantasy suite. However Sarah and Robert had very different impressions of what went down after the fact. Haley thinks Sarah probably overreacted but also that Robert is just pretty clueless. Amy thinks the fact that Sarah's childhood dream was to go to the fantasy suite explains a lot about her behavior on the show. Amy and Haley discuss Sarah's comments about Robert: that he wore his jeans to bed, that he pushed her hand away when she went to unbuckle his pants, that he didn't do any neck-sucking, and didn't touch her legs or anywhere below the neck. French-kissing wasn't enough for Sarah anymore, so she broke up with Robert and he was just thoroughly confused. Guess it'll be super awkward when they run into each at Whole Foods now!
Michelle and Cody: Haley marvels at the success of her last draft pick from Andi's season, Cody, ending up with the hottest woman in the Bachelor franchise: Michelle Money. Amy and Haley try to trace the development of Michelle and Cody's relationship as they seemed to be an unlikely pair. It seemed like the turning point came when Michelle checked in with her daughter, who gave her the best advice: it doesn't really matter if he's cute, but if he has a good personality, if he's nice, and if they have things in common. But Michelle did say that Cody was a "cute boy" as well. Then things heated up in their fantasy suite, as Michelle said she was "sore and satisfied" and Cody said "Michelle cracked the code" and that he "crossed some things off his bucketlist." Michelle also discussed Cody's muscular BLEEP.
Marcus and Lacy: Marcus was Haley's original first draft pick but neither she nor Amy were that excited watching him in this show. However, they do think that he and Lacy deserve each other. They both like rushing toward their fairy tale ending at full speed. Marcus ended up proposing to Lacy during the rose ceremony, and Amy and Haley are certain we'll be seeing their televised wedding event next spring.
All of the couples also got advice from three Bachelor couples and "Success Stories": Sean and Catherine, Desiree and Chris, and Jason and Molly. Haley was impressed with Molly's beauty, was happy to see cutie Chris, and was less than enthused about the high-horse couple Sean and Catherine (though she admitted she secretly loves them). Amy wasn't sure they dispensed much advice, but was surprised there wasn't an ultrasound technician on hand down in Mexico. She was waiting for some kind of announcement out of at least one of them, a la JP and Ashley. They also lament that there was no reunion of some of the crazies from earlier in the season, or the ones who caused drama, such as Kalon. However both Amy and Haley loved the ending of the show (the last 5 minutes) where they gave humorous updates and showed funny clips of "where are they now," which is a common device used in teen movies. It reminded Haley of The Babysitter's Club and Amy of Can't Hardly Wait. We got updates on Elise and Chris (who broke up after 2 weeks), Clare and the raccoon, Michelle and Ryan Putz, and Ashlee and Graham. Also we learned that Cody is planning to move to Utah and has met Michelle's daughter Brielle, but is first training Chris Soules, the next bachelor. And Lacy is moving to Dallas to be with Marcus.
Then Haley and Amy RHAP up their discussion with questions from the listeners of The Bachelor in Paradise RHAP-up podcast, and share tweets. They also share the news that a certain Survivor and longtime Bachelor and Bachelorette fan will be joining them for a 2nd appearance- back by popular demand! Don't miss the special season RHAP-up to close out the coverage of the wacky but wonderful Bachelor in Paradise!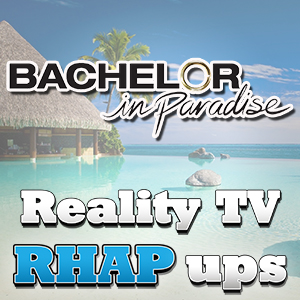 Click to Subscribe to
The Bachelorette
RHAP-up podcast[/caption]