Subscribe to The Bachelor In Paradise RHAP-up
Subscribe to Reality TV RHAP-ups (Main Feed)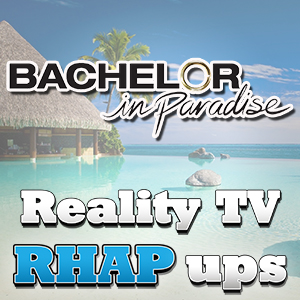 Click to Subscribe to
The Bachelorette
RHAP-up podcast[/caption]
This week was a special 2-night event, so Amy (@RHAPrecapper) and Haley (@hstrong_) are breaking down all the action and various couplings and uncouplings from Episode 4 and Episode 5 of Bachelor in Paradise, including:
Marcus and Lacy: Marcus tells Lacy he loves her, Lacy vomits, (not necessarily in that order).
Ashlee and Graham: Graham sticks by his reliable race car Ashlee, even though Ashlee trash-talked Clare to Zack and didn't go to help him after he felt faint during the rose ceremony.
Robert and Sarah: Robert and Sarah finally figure out how to kiss each other after a lot of awkward avoiding eye contact in the pool and bland conversations. Will it last?
Michelle and Cody: Michelle has a meltdown when Robert chooses Sarah, but Cody swoops in to save the day. Will the pictures from their wedding photo shoot be on the walls of their house one day? Or would Michelle just prefer to play cornhole with him and lick Marcus's left nipple?
Zack and Clare: What was the final straw for Clare that led her to run off into the woods, cry to a raccoon again, and ultimately leave paradise? Should she have just done Dancing with the Stars instead? And did she really look like a fool or was it the right decision? Was Zack even worth getting so worked up about?
Kalon and himself: Was his one-on-none date the best date in the show's history? Why did Michelle turn him down? Did he simply have too much "baggage"? Why did nobody accept his date and how great was the editing for the 1-on-none? Does Kalon have a future spending the rest of his life being madly in love with himself?
Jesse and Jackie and Christy and Lucy: Jesse became the new Marquel, being the only guy going on dates. With Kalon gone, is he the lead douchebag of paradise? What are his motivations and how does he manage to get all the women going after him? Did a threesome really happen in his bunkhouse with Christy and Lucy or is it just clever editing yet again?
Marquel, Chris, and the next Bachelor announcement: Amy and Haley react to Marquel's departure and discuss his blog entry describing his disappointment over not being cast as the next Bachelor, and first African-American Bachelor. They talk about the announcement that Chris Soules will be the next Bachelor, selected over Arie Luyendyk Jr. They are underwhelmed at the choice since Chris was not very animated but that doesn't mean they won't be watching.
Stay tuned for more Bachelor in Paradise RHAP-ups- there could be a special guest joining to discuss the season as well!