Subscribe to The Bachelor In Paradise RHAP-up
Subscribe to Reality TV RHAP-ups (Main Feed)
Amy (@RHAPRecapper) and Haley (@hstrong_) are coming to terms with the fact that there is only one episode remaining of the most romantic show of the summer, "Bachelor in Paradise." Episode 6 featured the final 2 latecomers: Brooks Forester and Tasos Hernandez, who showed up ready to shake things up. Haley and Amy were excited to see both of them, and were especially surprised that Brooks did not appear earlier in the season. In this RHAP-Up Bachelor in Paradise podcast, Amy and Haley discuss all of the couples and try to predict what may be in store for the finale.
They cover:
AshLee and Graham: Where was AshLee for the first half of the episode? They also talk about AshLee getting upset that she and Graham did not get a date card.
Marcus and Lacy: Lacy tells Marcus she loves him, and Marcus gets a date card telling him to "ask out the Lacy of his choice" for a date. Is it sickening or sweet? Will they go the distance? They also talk about her inability to pronounce "stalactite" and "stalagmite" and how their date was in a watery cave full of bats.
Michelle and Cody: What exactly is going on between these two? Michelle confides in Jesse that Cody "went from zero to 60" and that she is not attracted to beefy guys and is worried that he will smother her. She then tells Cody it's moving too fast for her, and he listens to her and is able to get her to come around. Later Michelle says she would be an idiot to let a guy like that go, and she isn't interested when Brooks and Tasos arrive. Do Michelle and Cody have mutual feelings for each other?
Sarah and Robert: When Brooks arrived, Sarah was ready to break up with Robert because she was attracted to Brooks since meeting him at After the Final Rose for Juan Pablo's season. Was Brooks ever a real threat, or just what Sarah needed to solidify her feelings for Robert? Haley and Amy talk about Robert's move of creating a date for Sarah and telling her he saw a future with them outside of paradise. They also talk about Robert's threat to Brooks and how he put his arms around her to show she was his woman. Was it cute or possessive?
Brooks, Jackie and Zack: Jackie was the in-demand date this episode, getting selected for Brooks' date card, and then getting another date from Zack. They talk about her date with Brooks and how he wasn't really listening to her because he was focused on her cute face, and how he only snagged a kiss on the cheek after their foosball tournament. Next they talk about her chemistry with Zack and their kiss during the date in the cave. Amy was surprised that she didn't pick Brooks, but Haley saw it coming. Even though she is a huge fan of Brooks, she had a feeling Jackie was going to ultimately give her rose to Zack.
Christy, Jesse and Tasos: Tasos (Amy's early favorite last season) arrived to Paradise just in time to rescue Christy from the "misogynistic douchebag" Jesse. Haley and Amy talk about Christy taking it slow with Tasos and whether there was real chemistry on their lazy river date. They also talk about how Michelle stood up for Christy and informed her that Jesse was bragging to all the guys about hooking up with her and having "intimate situations" with Lucy and Jackie as well. They discuss Lacy, Michelle, and Christy confronting Jesse while he was in the limo ready to leave Paradise and whether any of what they said to him got through to him.
Listener questions, tweets, and various tangents: As always, Amy and Haley answer your Facebook and Twitter questions and share what others are saying on social media. They also delve into various tangents this episode, including top knots and buns on men (hint: they're hot– specifically on Dylan, Hayden, and Woo), Trader Joe's, a Bachelor in Paradise spin-off resort and cruise, dating advice, judging people based on photos, and Carl the firefighter from Andi's season.
Tune in next week for their coverage of the Bachelor In Paradise finale!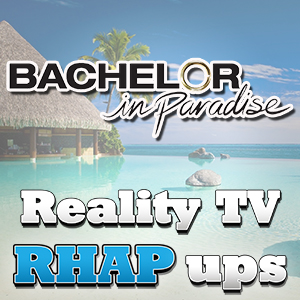 Click to Subscribe to
The Bachelorette
RHAP-up podcast[/caption]