Subscribe to The Bachelor In Paradise RHAP-up
Subscribe to Reality TV RHAP-ups (Main Feed)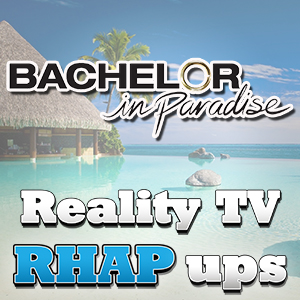 Click to Subscribe to
The Bachelorette
RHAP-up podcast[/caption]
It's the third week of Bachelor in Paradise coverage and Amy (@RHAPRecapper) and Haley (@hstrong_) are ready to break down the highlights of each of these couples and love triangles (or squares) one by one. Amy felt this episode slowed down a bit and was very middle-schooly, but Haley gives Amy a pep talk at the beginning of the podcast to get her excited again about how amazing this show can be.
Elise and Chris: Haley and Amy start out discussing the fallout from Elise choosing Chris Bukowski at the last rose ceremony. Several of the cast members continue to express concern that Chris is a player. They then break down Chris and Elise's relationship, from Chris's knee injury, to their date in Campeche, Mexico, to Chris's final decision to leave Paradise but take Elise with him. They touch on some of Elise's crazy quotes, such as saying she was ready to be "Elise Bukowski" and that she was meant to be his caretaker, and that he was going to be her "beautiful rainbow."
Ashlee and Graham: Next they move on to discussing AshLee's brand of crazy displayed in this episode, as she talked about how she and Graham would have "hot babies," and that he should meet her dad. She also told Graham on their date that she knew they would fall in love after seeing his Instagram (or, Insta-Graham). They discuss Michelle Money and Graham Bunn's friendship and how he expressed concerned to her that AshLee was moving too quickly on their "journey." They also talk about how all the dates this episode seemed to go to the same place, on the same plane. They must have had a special rate to Campeche, Mexico.
Marquel and Michelle, Danielle, and Jackie: Marquel was a hot commodity this episode, asked out by both of the women who showed up as new arrivals: Danielle and Jackie. The episode started with Michelle saying she was invested in Marquel for the future, but as soon as he accepted a date from Danielle, she announced she was done with him and was setting her sights back on Robert. They discuss Marquel's first date with Danielle, and how Danielle told him she came to Paradise for him and had a crush on him. Next they talk about Jackie arriving to Paradise, and how it didn't seem like she had many options to choose from if she read the body language of all the girls on the beach putting their arms around "their men." They talk about whether Jackie was just "playing the game" to advance with a rose, or if she and Marquel had real chemistry. They also critique Marquel's decision to announce and narrate going in for the kiss and whether it's a good idea to have a "no kissing on the first date" rule.
Clare and Zack: Although they didn't get much airtime this episode, Amy and Haley talk about Clare and Michelle's "Operation Double Date" with Zack and Robert, and Zack and Clare's moment on the beach talking about the anniversary of her dad's death. Haley calls Clare the "Dr. Doolittle of Paradise" because of her new animal friend, the sea turtle, who came to lay eggs on the beach. Clare took this as a sign that her dad approved of Zack and they proceeded to make out.
Marcus and Lacy: They also did not get much airtime aside from Lacy saying that everything about their relationship was "amazing all the time" and a shot of Marcus lifting Lacy Dirty Dancing-style in the pool. Haley and Amy discuss how long their relationship can continue to be "amazing all the time."
Michelle and Robert and Sarah: Next they break down the triangle that formed between Robert, Sarah and Michelle. Amy felt that Sarah got too insecure and whiny about Michelle taking Robert on the double date, but Haley could understand where she was coming from. They both thought that it was a cute idea for Michelle and Clare to plan the double date, and fair game. Haley didn't get a sense that Robert really felt anything for Michelle, but that Michelle was putting all her cards out on the table and it may have scared him as well. Ultimately they weren't too surprised that Robert picked Sarah because of some of the footage they had seen of promos before the season started.
They RHAP-up discussing Chris's move at the end of the rose ceremony to give his rose to Michelle and her emotional reaction to it, calling it the "sweetest thing anyone's ever done" for her. They also answer listener questions about the future of Chris and Elise's relationship, Zack K's history with Haley's beloved Toronto Blue Jays, whether Danielle is similar to AshLee, and whether Cody or Tasos have the potential to shake up any of these pairings. They also discuss a theory about whether Michelle is just there to play the game, and if contestants who were previously on Bachelor Pad have more of a competitive edge and don't really care about finding love on the show.