In this RHAP-Up podcast, Amy (@RHAPRecapper) and Haley (@hstrong_) share their reactions from  episode  2 of Bachelor In Paradise.
Subscribe to The Bachelor In Paradise RHAP-up
Subscribe to Reality TV RHAP-ups (Main Feed)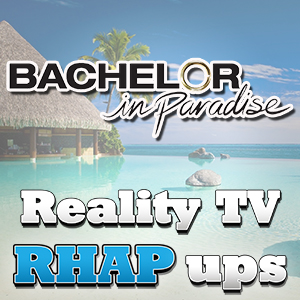 Click to Subscribe to
The Bachelorette
RHAP-up podcast[/caption]
Amy (@RHAPRecapper) and Haley (@hstrong_) are breaking the rules by YOPO-ing yet again to cover Episode 2 of
Bachelor in Paradise
. This week brought us two new arrivals in paradise who came ready to shake things up: Chris Bukowski (from Emily's season,
Bachelor Pad
, and party-crasher for Andi's season fame) and Zack (who was allegedly on Desiree's season).First Amy and Haley talk about the interesting introduction to the episode, with Chris Harrison dramatically discussing the reasons behind Michelle K's exit last week. Haley recaps the situation– essentially Michelle had a romantic liaison with a crew member from the show who brought her floss and handpicked flowers and lived next door to her in the hotel and they met through their balconies and then through the doors adjoining their rooms. Because Michelle did not want to discuss the incident on camera, the show did an
Unsolved Mysteries-
style reenactment of the events. When Michelle was confronted, the guy (fittingly named Ryan Putz) jumped off the balcony rather than faced the music of being confronted by producers. This landed him in a Mexican hospital with casts on his legs. Amy and Haley thought this was TV gold and wish there had been more reenactments in
The Bachelor
franchise.
Next they discuss Chris B's arrival to paradise and his invitation to Clare for the first date of romantic massages. Clare was willing to give Chris B the benefit of the doubt, while much of the rest of the cast discussed his negative reputation. However, he lived up to this later in the episode when quickly abandoning Clare for Elise. They discuss the triangle between Elise, Dylan and Chris. Haley points out that Dylan is a master of being vague and Elise is a master of misinterpreting everything he says. Elise seems to think making out with Chris will make Dylan realize how much he loves her. It doesn't quite work out that way. Dylan tells Elise he won't accept a rose from her if she offers one.
The next arrival is Zack whom Clare is very happy to see. Neither Amy, Haley or anyone in the Twitterverse seems to remember who Zack is, but apparently he was on Desiree's season. Amy points out that Clare says "I've been waiting for you" to Zack and wonders if the producers brought him in precisely to save Clare from being eliminated. Amy and Haley are disturbed by all the talk of "pheromones" on Clare and Zack's date. But Clare did say she felt Zack's "connection" in the ocean, and she also connected with her Mexican heritage while scoping out souvenirs in the beach town.
Marcus and Lacy had a boat ride date to a lair filled with a lot of candles. They talk about how Robert was upset that Lacy kissed him the day before and then dropped him for Marcus immediately afterward and now isn't speaking to him. Haley says Marcus also kissed Sarah the day before so there is a double standard. They also talk about Dylan talking with Elise about making out with Chris in the ocean, and how he backtracked a bit on what he had told her earlier. Ultimately though, it seemed to provide him a getaway from Elise, which he seemed to want.
Dylan gets the last date card and chooses Sarah over Elise. Elise manages to spin this as a good thing, while Sarah seems to just be happy to get a date but not thrilled that it is with Dylan. Amy thinks she may have been using him but Haley feels she was open to the experience but ultimately probably did not have a connection with him. Amy thinks Dylan missed a lot of signals from Sarah that she wasn't really feeling it and wonders if The Bachelorette experience prepped these guys to open up too much on a first date.
Amy and Haley then talk about the letter that Marcus found in Ben's backpack from a woman back home. He and Marquel confront Ben who doesn't deny it. The rest of the cast gets wind of it as well and gets very upset, especially Michelle. She breaks down crying saying she left her daughter for this show and he stole the spot from someone who was going to be there for the right reasons, possibly the guy she was meant to be with. Ben leaves before the rose ceremony. They also talk about how Marquel told Michelle "You like to drink" which didn't go over too well. Both Amy and Haley thought Michelle would pick Robert over Marquel because of that statement but she didn't.
Amy and Haley try to reconfigure the sanity power rankings for the women, and do a "right reasons" power rankings for the guys. Chris B falls at the lowest slot– even the guy with the girlfriend back home (Ben) had better reasons for being there than he did! They then discuss Elise's rambling speech at the rose ceremony and Dylan rejecting her rose, as well as Sarah's decision to choose Robert over Dylan, resulting in Dylan being the one to leave paradise for good. Amy thought Sarah came off a little mean and superficial in this episode, like she led Dylan on, but Haley thought it was a fair move since Elise was her good friend and she likely did feel more potential with Robert.
As always, they RHAP up with questions from listeners about fashion, Zack's identity, and whether Dylan would have taken Elise's rose if Sarah had gone first. They also share tweets from former contestants like Sean, JP and Nick and fans.