Amy and Haley 
are break down the dramatic Bachelor in Paradise finale and After Paradise revelations in this week's RHAP-up podcast.
In this podcast they discuss:
Juelia and Mikey breaking up

Ashley I. and Jared's overnight date

Jared and Ashley I. breaking up

Jaclyn's inability to secure a date with Jared or Justin

Nick taking Jaclyn's date card to go out with Samantha

the arrival of Cassandra to the Paradise resort

the new format of the finale

Tenley ending things with Joshua

the final couples of Nick and Sam, and Justin and Cassandra

Kirk and Carly's dramatic break-up

Tanner and Jade's (#Janner's) proposal

the surprise couple announcement on After Paradise: Cassandra and Jonathan

Kirk and Carly's chat on After Paradise

Predictions for which couples will make it in the real world
listener questions and more!
Thanks for listening throughout the season– stay tuned for special coverage and join Amy and Haley for The Bachelor RHAP-ups next season!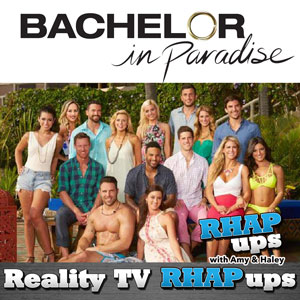 Subscribe![/caption]