Due to a last-minute event and rescheduling difficulties, the regular Bachelor RHAP-up with Amy and Haley could not be recorded this week.
Special thanks to Jordan Parhar for stepping in to help out to celebrate the love for our listeners with a podcast they didn't ask for, didn't know they wanted… and maybe still don't.
This podcast covers The Bachelor at 20: A Celebration of Love special which aired on Valentine's Day, and is available to view on
abc.com
as well. Amy and Haley live tweeted the event, but apparently other people had plans that night??
Just like the special itself, which had everything from blooper reels, to pregnant bellies, to Chris Soules cam, to countdowns, to an actual wedding between Jade and Tanner– this podcast conversation covers a wide range of topics just waiting to be discovered– from love, to 90's pop culture, to opinions of Bachelor contestants across the years, and the distinctions between the iTunes Canada and iTunes U.S. reviews.
Follow Jordan and thank him for helping out  (@jordanparhar). Follow Amy (@RHAPrecapper)… and let Haley (@hstrong_) know on Twitter how much you missed her this week!
Join Amy and Haley next week for double coverage of Episodes 7 and 8 of The Bachelor.
Share your thoughts in the comments!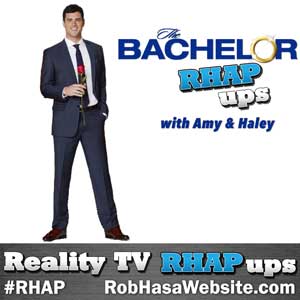 Subscribe for weekly RHAP-ups with Amy and Haley![/caption]