It's the self-proclaimed Bachelor experts vs. two Survivor heavyweights! Kelley Wentworth (Survivor San Juan Del Sur, Survivor Second Chance) and Randy Bailey (Survivor Gabon, Survivor Heroes vs. Villains) team up against Amy and Haley to select a draft of contestants vying for the heart of Ben Higgins in Season 20 of The Bachelor.
Judging solely by the bios on
abc.com
and perhaps their deep knowledge of Ben Higgins, they take turns selecting contestants to earn them points throughout the season based on factors such as roses, limo entrances, video packages, make outs, individual dates, and more.
In this podcast, they share
excitement about having the Bachelor back on TV
the final results of last year's draft between Amy, Haley, and Kelley Wentworth (Check out her winning Bachelorette preview draft podcast  weeks before heading to Cambodia for Survivor Second Chance, as well as Kelley's first visit to the Bachelor RHAP-up to talk farm guy Chris Soules.)
some of the interesting and concerning answers in the ladies' bios
thoughts on the return of contestants Becca Tilley and Amber James from Chris Soules' season
appreciation for Ben Higgins
and more!
Follow the gang on Twitter and let them know your thoughts there or in the comments!
Kelley (@kelleywentworth)
Randy (@randybailey1720)
Amy (@RHAPrecapper)
Haley (@hstrong_)
Cheers to a Happy 2016 following along with all the drama and romance on The Bachelor!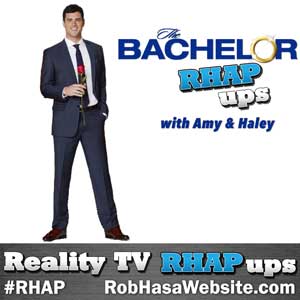 Subscribe for weekly RHAP-ups with Amy and Haley![/caption]