This is the first of two podcasts this week, as Amy and Haley share their reactions to the "craziest 2-on-1 date in Bachelor history," along with the Big and Rich country singing group date and Becca's one-on-date. Later this week, friend of the podcast Randy Bailey from Survivor: Gabon and Heroes vs. Villains  will be joining them to discuss the season up to this point.
Amy and Haley first talk about Kelsey's panic attack and the two eliminations at the rose ceremony: Mackenzie and Samantha. Samantha got the most airtime of the season just in her goodbye confessional, whereas Mackenzie worried that she'd never get over this break-up.
The women then travel to Deadwood, South Dakota and Becca gets the first one-on-one date. They find the date to be pretty boring but they could see that Becca and Chris are a good match.
The women are all eager to find out if they are on the group date, because it beats going on the dreaded two-on-one date which ensures one woman will be eliminated.
The group date invitees are: Megan, Kaitlyn, Carly, Whitney, Jade, and Britt. This leaves Kelsey and Ashley I. for the 2-on-1 date. Haley and Amy discuss the songwriting challenge guided by country stars Big and Rich, followed by Chris whisking Britt away to the Big and Rich concert, leaving the other women stranded and confused. Haley thought it was very cruel of the producers and showcased Chris not having good people skills. Amy could understand the women's reactions but was okay with the manipulation to bring about more drama on what had been a very friendly date and group of women. Haley was glad that the women did not blame Britt for getting the rose but were just upset at the situation. Amy and Haley both thought that Chris and Britt going on stage with Big and Rich was a fun date and much better than the private concerts of the past.
Last but not least is the two-on-one date between Ashley and Kelsey, who took a helicopter over Mt Rushmore and are dropped off on a bed in the middle of the badlands. After Ashley tells Chris she thinks Kelsey is fake, Chris turns around and tells Kelsey what Ashley said. Amy and Haley talk about Ashley's reaction and Chris's decision to ultimately send both of the women packing– as well as the remaining women's celebratory champagne reaction when they see that Kelsey has also been eliminated.
If you didn't get a chance to send in a question, you can post one below in the comments to be covered on the episode with Randy, or keep an eye out for the question thread later this week on the Rob Has a Podcast Facebook page.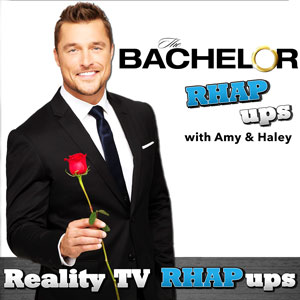 Subscribe to the Bachelor RHAP-up Podcast in iTunes[/caption]