Amy and Haley do a 2-on-1: two episodes on one podcast, covering Episode 7 (Ben's hometown or Warsaw, Indiana) and Episode 8 (final 4 women's hometowns).
In this podcast, they talk about:
Episode 7
Ben giving a recap to his parents about the remaining women
Lauren's date visiting Ben's school and community center
Jojo's baseball date at Wrigley field
Group date with Amanda, Becca, and Caila
Amanda's date at McDonald's
Emily's date meeting Ben's parents
the elimination of Emily after the date and Becca at the rose ceremony
Episode 8
Ben visiting Amanda's hometown (orange county, CA) and meeting her kids
Lauren's hometown date in Portland, including whiskey library and food trucks
Ben's date with Caila in Ohio, including a trip to a toy factory
Jojo's hometown date, featuring her mom drinking straight from the wine bottle
the reactions and questions from different family members
Jojo's letter from her ex
and more!
They provide a quick update of Draft Scores and answer all the listener questions, and share some iTunes reviews. Follow Scorekeeper George on Twitter (@GeorgeCTV) for full draft point details.
Follow Amy (@RHAPrecapper) and Haley (@hstrong_) on Twitter and share your thoughts in the comments!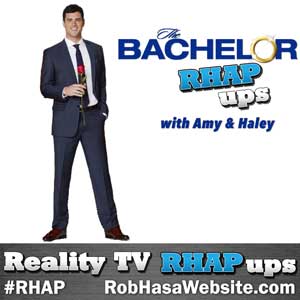 Subscribe for weekly RHAP-ups with Amy and Haley![/caption]