Amy and Haley recap The Bachelor Season 20 Episode 6, as the ladies join Ben Higgins in the Bahamas, during what seems to be hurricane season.
In this podcast, they talk about:
Jennifer getting eliminated in the rose ceremony continued to this week
Olivia talking with Ben during the first rose ceremony
The women traveling to the Bahamas
Ben's one-on-one date with Caila, including kissing a fish
Leah reacting to not getting a one-on-one
The swimming with pigs group date awkwardness with Amanda, Lauren B, Lauren H, Becca, Jojo, and Leah
Leah talking smack about Lauren B.
Ben's two-on-one date with Emily and Olivia on a stormy island
Olivia getting eliminated with her cankles in the sand on the deserted island
General discussions about Jose Bautista, the NBA, animals, Valentine's Day, dating, and exposing romantic interests to reality TV, podcasting, and internet friends
and more!
As always they (grudgingly) provide an update of Draft Scores, answer listener questions, and play a round of "Sean Tweets." And they share a lovely iTunes review– be sure to leave yours on iTunes! Follow Scorekeeper George on Twitter (@GeorgeCTV) for full draft point details.
Follow Amy (@RHAPrecapper) and Haley (@hstrong_) on Twitter and share your thoughts in the comments!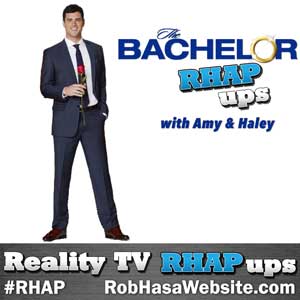 Subscribe for weekly RHAP-ups with Amy and Haley![/caption]