Amy and Haley recap The Bachelor Season 20 Episode 5, as the ladies join Ben Higgins in Mexico City, for some dating adventures south of the border.
In this podcast, they talk about:
Ben's one-on-one date with Amanda, a repeat of Chris Soules' date with Britt, complete with waking up early to go on a hot air balloon
The Spanish conversation and cooking group date
Olivia getting the group date rose
Jubilee being sent home after a talk with Ben during the group date
Ben's one-on-one date with Lauren H, modeling on the runway for a Fashion Week show in Mexico City
Ben's palpable chemistry with Lauren B.
Olivia's "Teen Mom" comment to Amanda
Emily telling Ben about Olivia's behavior toward the other women
Ben pulling Olivia away from the rose ceremony, ending the episode with a cliffhanger "To Be Continued…"
Highlights of the last episode of "Bachelor Live" with Lacey Chabert, Lee Brice, Michelle Collins, and Ralph Garman
News from Bachelor Nation: Erica Rose and Ashley S. are both pregnant
and more!
As always they provide an update of Draft Scores, answer listener questions, and play a round of "Sean Tweets." Follow Scorekeeper George on Twitter (@GeorgeCTV) for full draft point details.
Follow Amy (@RHAPrecapper) and Haley (@hstrong_) on Twitter and share your thoughts in the comments!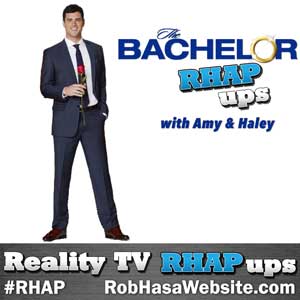 Subscribe for weekly RHAP-ups with Amy and Haley![/caption]