Amy and Haley are joined by Ali Lasher and Lita Brillman to discuss The Bachelor Women Tell All episode.
In this podcast, they talk about:
the women who attended the Women Tell All
the hot seat appearances by Jubilee, Lace, Olivia, and Caila
the man with the Lace tattoo
Ben's trip to the hot seat
who's likely to get a ticket to Bachelor in Paradise, along with Lace
Ben's merits and weaknesses as The Bachelor
and more!
They share an iTunes review and overview of draft scores. Follow Scorekeeper George on Twitter (@GeorgeCTV) for full draft point details.
Follow Amy (@RHAPrecapper), Haley (@hstrong_), Ali (@lashtweets) and Lita (@NewsAF_Intern) on Twitter and be sure to TELL ALL your thoughts in the comments!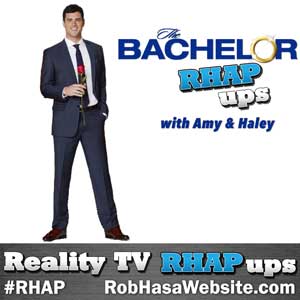 Subscribe for weekly RHAP-ups with Amy and Haley![/caption]