LIVE at a Special Time on Sunday Night, 10/14 at 11:00 pm ET – Rob Cesternino recaps the latest episode of The Amazing Race LIVE with Amazing Race 19 winners Ernie and Cindy Halvorsen.  Rob recaps the latest episode of the race with Ernie and Cindy including this weeks exciting race to the finish line.  Sadly for Caitlin and Brittany, they were the last team to arrive to the finish line after getting bad directions from their driver through most of the episode.  Gary and Will narrowly avoided elimination this week after they were the victims of the Blind U-Turn put on them by Rob and Kelley.  This leg of the race was won by Abbie and Ryan who came in first place for the second time this season.
Ernie and Cindy share plenty of inside stories from their time in the Amazing Race and answer questions live from the audience.
Rob wraps up the special live spreecast by previewing Survivor for this upcoming week with special correspondent Tyler Sloan.
[audio:http://traffic.libsyn.com/robcesternino/20121014-ernie-cindy.mp3]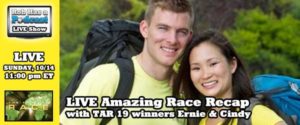 Amazing Race 19 winner Ernie Halvorsen joins Rob to discuss the latest episode of The Amazing Race.[/caption]