Amazing Race Canada 2014:
Episode 1 Recap Podcast[/caption]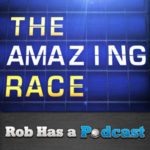 Listen to the TAR Canada Recaps in our Amazing Race Podcast feed[/caption]
Jessica Liese will be taking the lead on podcasts for TAR: Canada this season – as well as TAR: Australia whenever it begins. The podcasts will be available The Amazing Race Podcast Feed at http:///www. robhasawebsite.com or the Reality TV RHAP-Ups feed in iTunes.
The Amazing Race airs Tuesdays on CTV.
For those looking TAR: Canada on the internet, Canadians can find full episodes on the CTV website. Fans outside of Canada can search on YouTube and the episode will typically pop within a couple of days of the episode airing. But if you want to watch and are having trouble finding it, email Rob at Rob [at] Robhasawebsite [dot] com.
Jessica was impressed with TAR: Canada season 1. Compared to the US, the tasks were harder, the locations were profiled well, the casting was great and it injected some fresh energy into the franchise. In addition, The Amazing Race Canada Season 1 premiere was the most successful premiere of a Canadian-made TV show ever.
For season 2, the 11 teams are:
Natalie and Meaghan – ice hockey Olympians who won gold in Sochi this past winter where the team came back in the last few minutes of the final game.
Mickey and Pete – wacky best bros who are similar to Jet and Dave. Jessica likes their strategy of wearing t-shirts with their first names, allowing the audience to get to know them and become fans.
Sukhi and Jinder – entrepreneurial siblings who are well travelled and have their own YouTube channel. Sukhi is 7 years older and is the bossy sibling.
Pierre and Michel – brothers and competitive skiers from the French part of Canada.
Jen and Shawn – married couple that probably had a grunge phase. They had a child when they were young.
Laura and Jackie – married lesbian couple that seems to be in sync with each other. It is difficult to get a good read on this team; however, they have potential to become the most popular lesbian couple in TAR history.
Alain and Audrey – dating couple from Montreal. Jessica thinks they are cute but that the boxing in their intro package was staged.
Shahla and Nabeela – Muslim BFFs who are single and ready to mingle.
Rex and Bob – engaged gay couple. Bob shares a name with Bob Hope, but is a dental consultant. Rex is a famous ballet dancer in Canada.
Ryan and Rob – bartending bros. Ryan has a YouTube comedy channel and Rob does body building.
Cormac and Nicole – mother and son. Jessica thinks Cormac looks like Podric from Game of Thrones. This team is from Winnipeg, the same city as the Season 1 winners.
Jen and Shawn looked like they would be the first ones eliminated, but Shahla and Nabeela ended up losing feeling due to the cold and tapped out. Rob felt like he was watching The Titanic between having to serve rich people tea then being stuck in a room with flooding water.
The prize this season is:
a trip around the world
a new truck (one for each teammate)
$250k (tax free?)
free gas for life
Jon Montgomery says the 2nd season will be longer and harder, which Rob points out is always a good thing – unless you are referring to the winter in Canada. Rob and Jessica point out that Jon differentiates himself from Phil in his introductory speech.
Jinder starts the race by blocking the lane to get out of the parking lot and painting himself an idiot, which could be a great strategic move.
1st task: Canada's fastest zipline at WinSport Canada Olympic Park. Rob thinks he'd be scared to do this one but Jessica thinks it looked fun.
2nd task: Skydiving at the Viscount Aero Centre. Jessica notes that the teams took a cab from the airport to the same airport. Natalie had some trouble and threw up inside the plane.
3rd task: Afternoon tea at the Fairmont Empress. Jessica thinks the menu memorization was a great task. Rob thinks it was good because of the execution and the judge. Cormac had trouble with the task. Meaghan and Michel got through the task no problem. The edit made it seem like the task took Shaun a while, but it only took him 3 attempts.
4th task: fixing a flood at a Canadian Forces damage control training facility. Jessica thought it was a great task that was fun to watch. Contestants had to stop a flood from filling a training room. Nicole and Cormac had trouble with the brainteaser that told them to close the door. Shahla and Nabeela had the hardest time with this task and kept dropping tools into the water. They were not able to finish and were the last team at the mat, but they are happy with how they did.
Meaghan and Natalie were the first to arrive and got the Express Passes. Jessica is concerned that the hockey players might be too good and may make the season boring.
Questions:
How happy are you to have an all girl team that are terminators?
Rob and Jessica agree that this team is great and are happy that there is an all-female team who don't plan to flirt their way to the end.
Who do you think Meaghan and Natalie will give the Express Pass to?
Rob and Jessica think they will give the EP to a team that isn't a threat – maybe Sukhi and Jinder because they messed up so obviously at the start or to Cormac because he is such a huge fan.
Are Mickey and Pete as dopey as they seem?
Rob and Jessica think that the guys are intentionally making themselves look dopey. Jessica likens them to Fabio from Survivor and suggest they are downplaying their intelligence. Rob thinks they have the potential to be funny but haven't proven it yet.
Who is getting a star vibe?
Rob thinks Rex/Bob, Meaghan/Natalie and maybe Pierre/Michel. Jessica also really liked Pierre and Michel. Jessica thinks the twins did a great job at showcasing their different personalities. She also thinks Cormac and Nicole are getting a star edit.
What do you think about the previews for next week?
Reality shows famously make the previews more dramatic than the actual situation turns out to be. It looks like there will be an ambulance but Rob and Jessica don't think it will cause someone to leave.
Feel free to share your questions in the comments.
Jessica's Twitter: @HaymakerHattie  |  RHAP's new Twitter feed: @RobHasAPodcast
Special Thanks to Ashley Hobb for writing this episode summary.
Subscribe: Amazing Race Podcast in iTunes  |  Amazing Race Podcast RSS Feed
Subscribe: Reality TV RHAP-ups Podcast in iTunes  |  Reality TV RHAP-ups Podcast RSS Feed