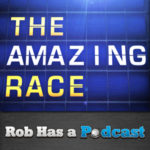 Click to Subscribe to the AMAZING RACE only podcast on iTunes[/caption]
After this weeks premiere of The Amazing Race All-Stars there were three people who were no longer in the running for the Million Dollar prize. First, Bopper Minton was told my Amazing Race doctors he could not compete in the race due to a condition with his Pancreas. Then, the Twinnies aka Natalie and Nadiya, were the last team to arrive to the pitstop and were eliminated from the race.
Bopper Minton Interview
Rob asks Bopper how he is feeling now a few months after his diagnosis from the doctors and Bopper says that he is doing great. Bopper explains a number of stressful things that he was going through leading up to departing for Amazing Race all-stars. Bopper doesn't know exactly why but he feels as though his body was turning against him as he prepared to go play in the race.
Bopper said that Mark was not given the choice to pick who his new partner would be but Bopper had a hunch that it would be Mallory because she is a friend and from Kentucky. Bopper says that he is rooting for Mark to win this season and wouldn't look bad if Mark won the race this time without him. Bopper thinks that there are definitely some issues that Mark and Mallory need to work through which surfaced in the bubble on the premiere episode.
Twinnies: Natalie and Nadiya Anderson Interview (Starts at 18:40)
Rob begins by asking Natalie and Nadiya what the hell happened to them in this first leg of Amazing Race All-stars. The twinnies feel like they just had a bad leg and had really bad luck this time around. The twinnies were mad at themselves but they've gotten over it now. They came in to the race very confident but it just didn't work out.
The twinnies may carry though with the promise to move to Sri Lanka but not the part about never coming back. Natalie and Nadiya are going to open a cross-fit studio in Sri Lanka later this year. The twinnies say that the fights that took place in this week's episode were only about a 4 (on a scale of 1 to 10) with a 10 being when they physically come to blows with one another.
Next Amazing Race Show
Rob Cesternino and Jessica Liese will be back on Tuesday night at 10 pm ET / 7 pm PT to recap the premiere of Amazing Race All-Stars with Joe and Bill aka Team Guido from Amazing Race 1 and Amazing Race 11
RSVP for the Tuesday Night Amazing Race Recap
Subscription Options for Rob Has a Podcast (Main Feed)