Click to Subscribe or Give Ratings to the The Amazing Race ONLY Podcast Feed on iTunes[/caption]
Rob Cesternino (@RobCesternino) and Chief Amazing Race Correspondent Jessica Liese (@HaymakerHattie) are joined tonight by Mark Abbatista from Team Long Hair Don't Care on The Amazing Race 21 to recap Episode 3 of the Amazing Race 24, "Welcome to the Jungle"
Race or Reunion?
Abba doesn't think the term All-Stars is appropriate. He thinks they should call it a reunion because some of the teams that should have been included such as Brook and Claire and the Snowboarders were excluded. Abba doesn't think that an All-Star should have gone out Second or Third like David & Connor and John & Jessica did in Amazing Race 22. Rob thinks that CBS opened the Pandora's Box of returning players when they brought back Francesca for Survivor: Caramoan and CBS can brings back anyone they want. Abba feels there is a novelty element to returning players who went out early, but he thinks returning players work better on Survivor then they do on the Race.
Abba doesn't know why Amazing Race 22 got more representation then his season 21. He feels that the Chippendales should have been shoo-ins. He doesn't like the fact that the Twinnies got back on the show because they stole the Rockers money during TAR 21 and did not get penalized for it. He calls that day the most beautiful day though, because "Out of shit comes flowers" and they were able to get all the money back from one of the poorest countries in the world. He thought the money fell out while he was lying down in a taxi cab, but didn't find out till later that it was stolen. If they had gotten the chance to get on this season, he would have gone after the Twinnies. He doesn't know why they got rewarded with the chance to come back, but he thinks it was karma that they were first eliminated.
Dropping the Bag and Alliances
Abba understands both points of view in the debate between Mark and Mallory. He feels that if they were to go back, they should have done it faster than they did. He would have left the bag behind though and kept racing. He feels that since they were in China, it would have been a lot easier to replace a lot of Mark's things for cheap money.
James is out playing with John Fogharty and he does an all-star jam for a charity and he is playing for the sake of playing.
Abba thinks it's hard for the Cowboys to have an alliance because they are so far ahead of everyone. When teams fall behind together, they are always hanging out and making friends. Not so much for the teams in the front. He thinks they got cast in the Anti-Social role, but that wasn't the case and they never got the opportunity to really connect with any of the other teams.
You're Back Again?
Abba understands bringing back people, but doesn't think that teams should go back multiple times. He thinks CBS should keep these shows open to the public to participate in, and bring back people again and again. He also feels that these teams have an advantage participating in the race three times because the more times you do something, the more comfortable and better at it you get and the better mindset you have. Joey and Megan never had that veteran's mindset.
Rob agrees with this, saying you learn more and more every time you play the game because Boston Rob wasn't as good on his first time as he was on his fourth. Abba added that Boston Rob learned from everyone he played the game with and all the skills that he picked up along the way.
Music Alliances
If he could pick anyone from this season to sing with, Abba would pick Mark because he doesn't know how to sing that well and he would look good compared to him.
He calls being on a reality TV show similar to being on a fraternity because they all have had this experience that no one else can relate to. He calls it similar to a woman giving birth talking to another woman about the process.
Abba tells us about the metal relationship he had with Adam Posh from Big Brother. After the cast was announced for the Amazing Race, Adam hit up Abba and asked him if he worked with a band called Souls at Zero which happened to be his favorite band at his record label. Abba and Adam actually worked together with this band before their reality life. They also worked with Matt from Survivor: Caramoan who was at a radio station that Adam promoted that band to.
Grannimals and Hot Girls
Abba was not a fan of the Afganimals and called them the Grannimals and eventually the Afganafools. He called them posers during their first season. He thinks they learned from their reception the first time out, and he thinks that they look a lot softer than they did last time out. He is a fan of the Afganimals this time out and was interested in how they worked with the Twinnies.
Abba thinks Mark and Mallory had a lot going against them because they were not only strangers, they were different genders and different age groups, so they have different mentalities. He wondered if they had to share hotel rooms, or if they got different hotel rooms but could still talk to each other. If he had to be paired with someone from another team, he would not want to be paired with one of the Twinnies. Abba would run the race with Rebecca Cardin from Amazing Race 6 or Brook from Amazing Race 17 because they are both hot and fierce racers. He wants someone who is competitive and had a good skillset that complemented each other.
Build a boat or build a boat?
In terms of the Detour, Abba doesn't understand why when Dave and Connor showed up at the second detour after passing the first detour, why they didn't just do that instead of delivering the food back at the first detour. If he was on the race, he would have deferred the decision the James. Abba says they could have changed tasks if they would have wanted but thinks the locations may have been a little deceiving since they were able to finish the leg without getting back on the boat. Rob and Jessica feel that Dave and Connor may have had an affinity to the fake birds that kept them from doing that task.
Abba thinks that it is possible for the all-male teams to run the table on the race, but points out the trouble that Big Easy had with the puzzle. He thinks it all depends on the type of challenges that are thrown their way saying that there might be some challenges that favor females. He points out though that it was not an even gender split this time around, with the race having more males then females.
Race Tunes and Logistics
When asked to use a metal song to describe his Amazing Race experience, Abba comes up with the song "F*cking Hostile" by Pantera. He has different songs to describe different teams though. He uses the song "Flirting with Disaster" by Molly Hatchet to describe the Country Singers and the song "Déjà Vu" by Sleeping with Sirens to describe Brenchel passing Margie and Luke to the mat. He thinks this episode reminded him of Welcome to the Jungle by Guns and Roses and Rob points out that it was the title of this week's episode.
If didn't make much of a difference to him sitting on the couch whether or not the teams in the back got the opportunity to get into this leg because of the flight. He liked it on the race though because it gave him a chance to get further ahead and he feels there will be an equalizer on the next leg. He does feel this type of leg lessens the suspense.
Abba feels that the reason that they provided the teams with the tickets is because it's a logistics issue. You not only have to move the teams, but you have to move the crew and there may only be a certain number of flights going out of a certain city. Jessica asks if there is a list of airlines that they do not want you to use. Abba confirms that, and feels that it's because they don't want people scattered all around the world, so they make it a little easier for the teams. It may also be because they require licenses and permits to film in certain countries.
Lost Passports in Russia
When Abba and James lost their passports in Russia, they did everything they could to get it back. There wasn't much they could do though because it was the Russian equivalent of the fourth of July and the government was shut down that week. Through an act of god though, later on in the week someone saw them in the embassy who thought they recognized them and was able to put them on the fast track though the Russian process and they were on a flight out that night. While they spent the week in Russia though, they did enjoy a lot of cheap vodka.
Abba doesn't think that Dave and Connor should have gotten a penalty because they didn't do anything wrong.
You can listen to Abba on a Podcast with Mona from the Roller Derby Moms on TVTalk if you download the app from the App Store or Google Play.
You can connect to Mark Abbatista through Facebook. Be sure to check out Jessica and Rob's breakdown of last night's episode as well as the Exit Interview for team YouTube on RobHasAWebsite.com. Coming up tomorrow will be an interview with the latest eliminated contestant from King of the Nerds.
Special Thanks to Michael Shaheen for writing this recap about the latest episode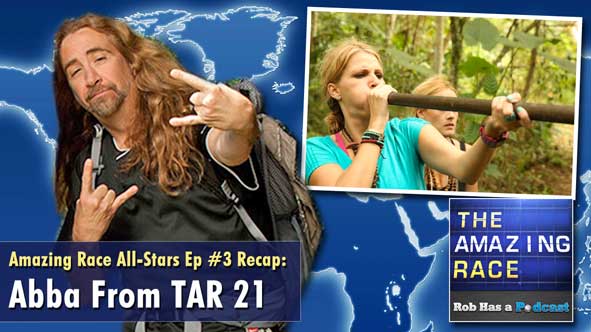 Subscription Options for Rob Has a Podcast: