Click to Subscribe or Give Ratings to the The Amazing Race ONLY Podcast Feed on iTunes[/caption]
Rob Cesternino (@RobCesternino) and Amazing Race Corrospondent Jessica Liese (@HaymakerHattie) are joined by Amazing Race 23 winners Jason (@JasonCase_) and Amy (@AmyDiaz) to recap episode two of the Amazing Race 24 "Baby Bears Soup" which took teams through the city of Guangzhou, China.
Jason, Amy and Rob reminisce about the after party that took place after the Blood vs. Water finale where they picked up Rob in a limousine filled with Amazing Racers. They reminisced with Jessica as well as an after party for TAR 23 which was attended by Jessica.
Saving Dave's Bag
Jason gives Mark a lot of credit for going on the Race with a stranger and can see why they had a hard time communicating. At the end of the day though, he feels that Mallory made a mistake but Mark should have dealt with it. Amy thinks that as long as you have your passports, everything else you can find along the way. She feels that they would have been eliminated early anyways because of the lack of chemistry.
Rob informs us that the bag that Mark was using belonged to Dave/Rachel who were the winners of TAR 20 and he may have felt bad for losing a million dollar bag. Jason and Amy wouldn't have felt any pain if someone lost their bag and would have lent them out, especially Jason who ran the race with the women's bag.
Amy informs us that Mark could not have retrieved the bag at the Pit Stop, because once you've checked in, that's it. Jason doesn't think that the bag cost them the race, instead the frustration from the bag lent in to the bad attitude with the featherball. Rob feels that they had no chance after the backpack incident. Jason calls what happened to them a recipe for elimination.
Amy points out that they really admired Dave and Rachel as racers, but points out that she thinks they may have gotten a divorce.
Jason and Amy know from personal experience that other teams were not allowed to touch the backpack, so no one could have picked up the bag if they wanted too. They point out how limited production was and how stretched thin they were, so no one would have guarded the backpack.
Rob asks Jason and Amy for their relationship status. Jason informs Rob that they are still together, but they are not engaged. However, he is willing to change that relationship status to whatever stage of a couple they are looking for.
If Jason and Amy were in the Mark and Bopper situation, Amy would want Boston Rob to replace Jason. Jason thinks that Amy would want Marie of Tim and Marie to replace him.
Should the Blondes be helped?
Amy thinks that the move that the Country Singers and the Cowboys made was outstanding. They feel that Tim and Marie should have done the same thing with the Bunnies in the shoe shine task. Jason thinks that it was amazing strategy by the Cowboys because the second Express Pass is now out of play and it was given to a weaker team. Rob called the move a Win-Win for both teams. Amy thinks that it was an interesting move for them to give it up considering they left the pit stop first and arrived at the Road Block last. She feels it speaks volumes about their race and the confidence they have as racers.
Amy explains that when she helped Nicole, she knew that there was another team behind them that was yet to arrive. She questions the move that Megan made because they were the last two teams at the time. Jason reminds us that anything can happen in the Race and that five minutes could have cost them in the grand scheme of things.
Are the Afghanimals angels of death?
Jason enjoyed the moment with Leo and the cab driver when Leo went to give the cab driver a high five and the cab driver wanted nothing to do with it. Although they disliked the Afganimals on the race, they are now friends in the real world and the felt their antics may have been misinterpreted early on. He also feels that they had great strategy by bringing a big backpack and changing over to a mini version of that backpack during the end game of the race.
Although Jamal is now married, Leo is fair game to flirt with the Country singers. He may still use Jamal as a wing man though. They might align with the Country singers because they know they can out run them in a footrace. Jason notes that they misjudged the Ice Queens skills at first thinking that they were a weak team but they ended up being a really strong team.
Jessica points out that over the course of the past two legs, whichever team the Afganimals has worked with has been eliminated from the race. Jason and Amy is not surprised with that and sympathized with the Twinnies because something like the Bridal Shop challenge could happen to anyone.
Were the Baseball Bunnies stealing more then home?
Amy recalls how close all the teams became on the race. On the train from Austria to Poland, all the teams bunked together and it was like a summer camp. She really liked all the teams on the train with the exception of the Afganimals who ran up and down the hall of the train screaming at 2 in the morning. Jason reports that he and Amy are still close to everyone on the race.
Amy tells the story that the Baseball Bunnies would get in trouble for stealing tea from airports and was stopped by security multiple times.
Jason and Amy tells us that Travis and Nicole were like their Dr. Phil's and would give them relationship advice. Amy tells us that she was shocked when she watched the race because they never saw that side of Travis. Jason thinks it has a lot to do with his persona as a successful doctor and the ego that goes along with it. He thinks Travis was just trying to get his point across and he was the victim of editing and he doesn't treat Nicole like that in everyday life.
Bad Luck Blondies
Jason and Amy think John and Jessica aren't doing as well because they have only done three legs in their first race, and they are up against some fierce competition. Jason doesn't think they deserve the title of an All-Star because of that status and the blunder they made.
Amy thinks the cast was unfair because there are three racers who have been on three times and she thinks that they would have bonded together, although that hasn't been the case. Jason points out that alliances are often made at challenges and that you have to be extremely strategic with alliances.
Question Time
Jason thinks that Phil has never seen a pit stop traffic jam like the one last night, but prefers that type of finish over a finish where a team is a day behind.
Amy thinks the Car task was easier then the robot task in Tokyo because there was pictures that the teams could follow. Jason thinks that the Robot task was easier because there were a lot of distractions like the little girl who annoyed flight time.
If Jason and Amy could hire either Flight Time or the Afganimals to babysit Amy, they would pick the Globetrotters because they are entertaining. However, the Afganmals are amazing cooks and make the best Rueben sandwiches.
Amy would not get offended if someone said she was not Rhode Island like because most people don't know where Rhode Island is or what the people there are like. Jason can understand why Mallory was so offended though because they had a lot of pride in where they are from.
If Jason and Amy were on this race, Amy would have gone for the massage challenge, but Jason would have stuck with the Featherball challenge. Both Jason and Amy think there must have been a line in the clus that hinted to the fact that the Massage would have taken a long time.
Amy expected a lot more out of Rachel because she expected her to have a bigger personality. Jason thinks that her and Brendon are a strong team and expects them to make the top 3. Amy thinks that if they made the top three with all the emotional issues they had the first time, they could easily make it the second time.
Rob is into the race, as long as there is drama. Jason agrees because this is a really dynamic group. Amy felt bad for Margie and Luke last night, but Jason thinks that is all in the name of the Race. Amy thinks that Margie thinks that it's her fault that they lost because they lost steps on Brendon and Rachel. Jason points out that on their race, Brendon and Adam ran everywhere even when they were not racing.
Jason feels this has been a great race so far and hopes they stay involved with the cultures and the locals.
If you want to follow Jason and Amy on Twitter, you can find them @JasonCase_ and @AmyDiaz or you can find Amy on Facebook. Rob points out that they are very friendly on Facebook and if you are friendly with them, they will get back to you.
Jason tells that the day that they were supposed to fly out to Los Angeles for the Amazing Race Finals, there was a blizzard and all the New England airports were shut down, however the producers told them that this was their one shot. They ended up taking a plow truck to Philadelphia to catch a flight to LA.
Although Jason and Amy will not be at Reality Rally, they will be at TARcon in New York City. If you want to support Reality Rally, shop online at RobHasAWebsite.com/Amazon and all the proceeds will go to Reality Rally to support Michelle's Place.
Special Thanks to Michael Shaheen who wrote this fantastic recap of tonights show!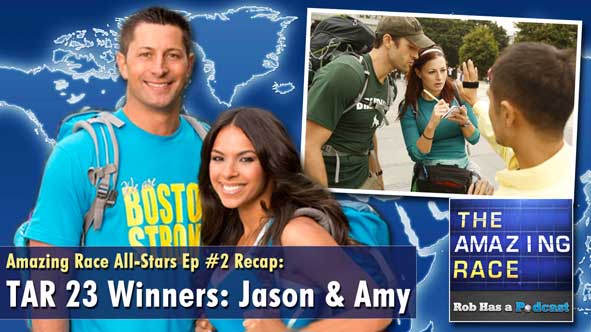 Subscription Options for Rob Has a Podcast: