Listen to the Show: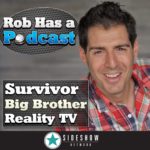 Rob Cesternino (@RobCesternino) and Amazing Race blogger Jessica Liese (@HaymakerHattie) to preview the upcoming cast for the Amazing Race 24 – All Stars. Jessica will be going on an Amazing Race on her own by hopping on a plane for her honeymoon. Although the wedding is not Amazing Race themed, both Rob and Jessica agree that Phil Keoghan would be a better officiator of the wedding then Jeff Probst would.
Rob was surprised to see three timers on the cast, because he felt this would have been the All-Stars since Unfinished Business. Jessica feels they were scraping the bottom of the barrel with this cast and she feels that the producers were trying to hand one of the popular three time teams a win. According to Jessica, she began hearing cast lists for All-Stars since last June.
Rob felt that the one team that got snubbed was Tim and Marie, but according to Jessica they were not interested in running the race again. Rob would have liked to see the rivalry between Marie and Rachel. Jessica felt Max and Katie were the biggest snubs because they made Season 22 really what it was. She also felt the Chippendales would have been great on this season, but they were too busy "Chippendaling" to fit the race into their schedules. Rob thought Dave and Rachel would have been great as well, but Jessica felt they may have been a little too good. Jessica would have liked to see Amani and Marcus. She also feels this cast is a giant sausage fest, and she would have liked to see more women like Pam and Winnie. Rob references an inaccurate early cast list he saw on RealityBlurred, and Jessica points out that the main difference between that cast list and the actual cast list is the inclusion of the three time teams.
Brendan & Rachel – (11:08)
Rob feels bringing Brendan and Rachel back was a no brainer. He feels that like Rob and Amber that Brenchel is very polarizing and make for great TV. Jessica feels that Brenchel is very self-aware of the image they are portraying. She also feels that Brenchel's core fan base has carried over from Big Brother rather than gaining new fans from the Race because hardcore Amazing Race fans get grumpy when CBS carries over people from other shows. Rob feels that Brenchel has mastered the art of floating in the race despite Rachel's catchphrase from the Big Brother house.
Mark & Bopper – (12:55)
Rob is very excited to see Mark and Bopper. Jessica feels they were also a no brainer. Rob felt that they got a raw deal on their race because everyone was rooting for them and they had a very unsatisfying ending. Jessica thought they weren't exceptional racers, but they did better than everyone thought they would.
Jet & Cord – (13:36)
Jessica thinks Jet and Cord aren't very compelling, but they are very polarizing for what they have done on and off the show. She recalls hearing about a time at TARcon when one of them used a less then appropriate word to describe one of the other teams and it made everyone back off of them. She calls them charming, fish out of water during their first season, but recalls that none of the other teams really liked them their second time out.
Dave & Connor – (15:40)
Rob really likes seeing Dave and Connor back because he feels the race was theirs to lose before the injury. Jessica feels that Season 22 felt a little bit lackluster, so they are bringing back a lot of teams from Season 22 to retell that story and get the outcome they wanted.
Flight Time & Big Easy – (16:45)
Rob comments on how CBS will be very Basketball player heavy in the spring with Flight Time and Big Easy along with the inclusion of Cliff Robinson on Survivor: Cagayan, but they did not go to North Korea. Jessica feels there are worse teams they could have brought back for a third time and they are fun TV.
Caroline & Jennifer – (17:19)
Rob still can't tell Caroline and Jennifer apart, but Jessica points out that Jennifer is a foot taller. Rob has no idea what they did to deserve a return trip to the Amazing Race. Jessica feels they are back because they are girls and they did not say no to casting. She feels they got slotted last minute. Rob feels that they were cast into the "Sexy Girls" archetype because the only other all-female team was the Twinnies (Nadiya and Natalie). Jessica feels that Dustin and Kandice would have been better casting for the archetype. Jessica says that Marie (of Tim and Marie) and Katie (of Max and Katie) were joking on Twitter about applying for the Race.
Joey & Meghan – (19:30)
Rob comments that Joey looks a lot different. Jessica thinks it's because he finally hit puberty. Rob feels that Joey is in a lot better shape, and Jessica hopes that it means they will take the race seriously this time. Rob wonders why Joey needs to go on the race because he makes six figures from YouTube. Jessica feels that they were recruited hardcore because they brought a lot of new fans to the show.
Jessica & John – (21:52)
Jessica feels that John and Jessica are back because Production thought they would be a much bigger force to be reckoned with then they were. Rob feels that they are back because they bring a lot of drama. Jessica feels that John tried to make himself into the Richard Hatch of the Amazing Race, and she feels it will be interesting to see how they will fare next to the Afganimals who also think they are on a different show. Rob thinks there is a possibility of a feud with John and Jessica and Brendon and Rachel.
Leo & Jamal – (23:45)
Rob is happy to see the Afganimals back, and Jessica thinks they are in the top tier of teams. Although she got a bad impression of them from TAR 23, Jessica is willing to give them another chance because she only mildly dislikes them now. Both feel that they have the potential to create a lot of drama with some of the other teams.
Margie & Luke – (24:41)
Jessica is not a fan of Margie and Luke, because she doesn't like him as a racer. She feels that the fans are very sympathetic to a deaf racer and CBS wanted to make them happen, and it didn't work their first times out.
Nadiya & Natalie – (25:37)
Both Rob and Jessica feel that the Twinnies are going to cause a lot of drama this season. Jessica feels that they don't go out of their way to create drama, they create it just by being themselves. Jessica feels that if they were going to bring back one team from that season, it's the Twinnies.
Rob asks about any potential twists in this season and Jessica brings up that in the press release it said that all the teams will not make it to the starting line. Upon further clarification, she states that there will be 11 teams racing, but they will not be the 11 teams in the picture.
Jessica posted a new blog on Rob Has A Website that catalogs the different twists that the international versions of the Amazing Race have. Her favorite is the Handicap from Norway, where the team saved from the elimination has harder tasks then the other teams. Jessica does not feel that the USA has used any twists from overseas, but a few of them came out around the same time. Jessica feels that if you were to watch one season of international Amazing Race, she would pick Amazing Race Australia Season 2, because the casting was spot on and they went to some cool locations.
Jessica feels that if there were to be an Amazing Race roast, you could roast Kevin and Drew or Charla and Mirna, because people were very into the early seasons.
Rob will be back live at 11 PM Wednesday night live after the elimination from Opposite Worlds. Mr. Survivor voting is now underway. The audio from the roast is live, the video will be available later this week for a small fee. The Miss Survivor results show will be on Monday night with Curt Clark.
Special Thanks to Mike Shaheen for this AMAZING Amazing Race Recap
Subscription Links:
Subscribe to RHAP (All Shows) on iTunes: RobHasAwebsite.com/iTunes
Subscribe to RHAP (All Shows) on Stitcher: RobHasAwebsite.com/Stitcher
Subscribe to RHAP (All Shows) on Soundcloud: RobHasAwebsite.com/Soundcloud
Subscribe to RHAP (All Shows) on YouTube: RobHasAwebsite.com/Youtube