After this week's episode of The Amazing Race All-Stars, Rob Cesternino speaks with the latest team to be eliminated from the Race: Flight Time and Big Easy. Rob speaks with the Globetrotters about their third experience on the show and what went wrong for them on this leg of the race.
Rob asks the following questions and more:
What sort of problems did Flight Time and Big Easy face getting to the detour?
Were Flight Time and Big Easy kicking themselves when watching the episode because they missed the final part of the clue about the basket on the wooden donkey?
How is Big Easy's donkey doing?
How often was Big Easy's height really a problem? Were there a lot of tasks he wasn't allowed to do?
In season 18, they made it to the end thanks in part to a strong alliance. This season they didn't seem to be working with any one particular team. Was that something they considered or tried this time and if not, why not?
Were Flight Time and Big Easy really carrying around a basketball in their backpacks the entire time?
Were the Globetrotters surprised last week when the Afghanimals shared the answer to the roadblock with them?
Did they realize that the loser of the footrace with John and Jessica was going to be eliminated in the last leg of the race?
What was the highlight of the Amazing Race All Stars for Flight Time and Big Easy?
For plenty more coverage of this season of The Amazing Race, check out Jessica's blog recapping the episode.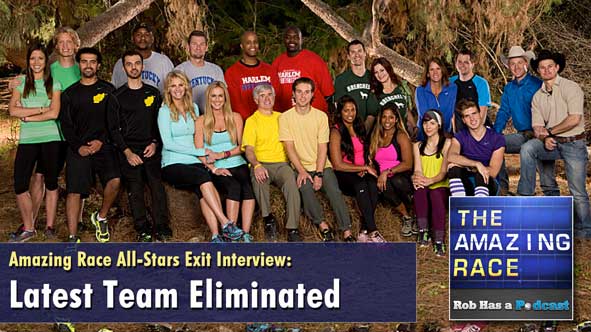 Subscription Options for Rob Has a Podcast: