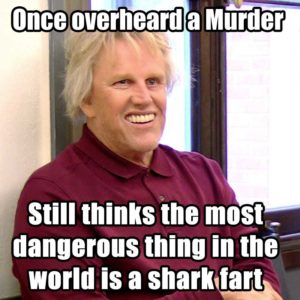 On this week's episode of "All Star Celebrity Apprentice", the teams were tasked with coming up with a marketing presentation for the tourism board of South Africa. Rob welcomes to the podcast the man behind the idea for Reality Gamemasters, Alex Forstenhausler (@Aforstenhausler) to break down all of this week's drama.
This week Brande Roderick was fired by Donald Trump after leading Team Power to another loss. Her efforts were called "juvenile" by the tourism board and there was little question that she would be fired – though Trump tried to make it seem like he wanted to fire Lil' John.
However, this night would belong to the Master of Celebrity Apprentice, Gary Busey. Gary Busey had a number of memorable quotes about such varied topics as murder in Johannesburg, romance, shark farts and much more. Rob asks Alex is Gary Busey has eclipsed his performance on the first season of the Celebrity Apprentice and both the guys believe that he has. Now that Gary is in the top 6, Rob wonders just how much further he can go. With another shot at project manager looming next week, Gary looks surely to be fired on next week's episode.
Turning to Team Power, Rob and Alex discuss which was the dumbest part of their presentation: the slogan "You + South Africa = Adventure", the guy dressed up in the shark costume or zip lining in an office chair. Rob and Alex both believe that there was probably no chance that Trump was going to fire Lil' John.
As for Penn Jillette, Rob thinks that he has emerged as the #1 contender to win the Celebrity Apprentice this season. Lisa Rinna is hanging on to Penn for as long as she can in this game and Rob compares them to a showmance.
Finally, Rob and Alex answer a number of questions from the listeners of Rob Has a Podcast about this week's edition of the Celebrity Apprentice.